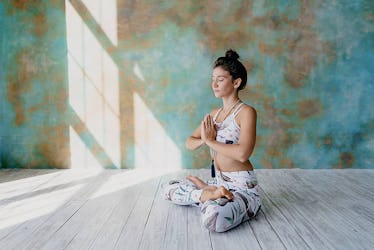 Treat Yourself To Some Lululemon Leggings For A Great Cause This International Yoga Day
Is it just me, or has every day become a so-called "national holiday"? For the record, I'm definitely not complaining — your girl is all about doing things for the 'Gram and indulging in some good eats — but sprinkled throughout the silliness are legitimate national holidays that can really make a difference in someone's life and well-being, like International Yoga Day, for example. It's so important that days like this don't go unnoticed, and this year, Lululemon's Here To Be program is celebrating International Yoga Day to not only bring awareness to the practice, but to also be proactive in raising funds for non-profits that dedicate their time and efforts to bring yoga and meditative practices to communities that need them the most. So on June 21, celebrate the yogi holiday by treating yourself to a cute pair of leggings, because your dime will donate to communities that could really benefit from having a little more mindfulness in their lives.
I know myself, and I've only just recently tapped into yogi culture, but according to the International Day Of Yoga's official website, the United Nations General Assembly declared the holiday back in December of 2014, following Hon'ble Indian Prime Minister, Mr. Narendra Modi's address to the UN that September, in which he stressed the importance of yoga for the mind, body, and spirit. Recognizing both the physical and mental impact yoga can have on a person, activewear brand Lululemon launched its Here To Be foundation in 2016 to make yoga and meditation practices accessible across all social, physical, and economic barriers.
According to a press release sent to Elite Daily, Lululemon will celebrate International Yoga Day by donating 100 percent of its profits to non-profit organizations that make yoga and meditation more accessible to communities in need.
I know how agonizing it can be when you're trying to resist pressing that oh-so inviting "confirm purchase" button in your shopping cart, but you might want to hold off on buying a pair of those super sleek Align leggings from Lululemon until Thursday, June 21, — trust me, friends, it's for a good cause. See, this International Yoga Day, Lululemon is all about the beauty of giving, as well as receiving: Through Lululemon's Here To Be foundation, 100 percent of the brand's sales, in-store and online, will be donated to non-profit organizations around the globe to spread awareness about the benefits of yoga, and make yoga and meditation more accessible to those less fortunate. According to the press release, the company is estimating about $1 million in donations, which, as you can imagine, is an incredibly generous contribution to the cause.
Yoga is so much more than 20 minutes of stretching, or a sweaty class you commit to to improve your flexibility; yoga is about the mind just as much, if not more, than it is about your body. Engaging in a regular practice can do wonders for your mental health, and while Lululemon recognizes those benefits, the brand also knows that, unfortunately, not everyone has access to yoga studios, or free internet for streaming classes on YouTube, which is exactly what makes this initiative so incredibly awesome and inspiring.
And while, of course, having an awesome pair of leggings and cute, supportive sports bras can make you feel amazing in class or at home on your mat, Lululemon recognizes it's not just the clothes that make the workout; it's the connection between body and mind that really makes yoga so unique. Celeste Burgoyne, the company's EVP, Americas, who oversees all global store and digital operations for Lululemon, stated in a press release:
The health benefits of yoga and meditation are undeniable. Cultural, geographic, physical and financial barriers remain today that stand in the way of people participating in yoga or meditation. Through Here to Be, lululemon and our guests can support grassroots organizations focused on well-being in our communities and around the world.
No matter how you celebrate, though, hitting the mat on International Yoga Day will make you feel amazing, and who knows, it could even inspire the start of your own practice.
According to the brand's press release, Lululemon teamed up with Beall Research Inc. to issue a survey to 4,000 adults in the U.S., Canada, and the UK. The questionnaire, which focused on all things yoga and meditative practices, was meant to get a feel for how many people are actually doing yoga in these different parts of the world, and the benefits people tend to see when they do practice regularly.
The results showed that 80 percent of people who practice yoga believe their stress levels have significantly dropped since committing to the practice, not to mention their concentration has improved, too. What's more, about two in every five respondents said the mental health benefits of yoga was just one, if not the top reason they started practicing in the first place. "With so much stress and tension around us today, it's never been more important to help communities and individuals who face barriers to well-being," Burgoyne noted.
So even if you're not on the hunt for a new pair yoga leggings (though I highly suggest you treat yourself, girl), celebrating International Yoga Day can be as simple as taking five minutes out of your lunch break to check in with yourself. Do a quick body scan, and really hone in on how every part of you — mentally, as well as physically — feels in that moment. Meditate when you wake up in the morning, or maybe perform a delicious vinyasa before bed to help you unwind after a long day.
Despite what social media might have you believe, yoga isn't just about aesthetics or artsy prints on yoga mats. You can just as easily enjoy the practice in an old T-shirt on your living room rug as you can in fancy leggings at a private studio. The idea is to become one with your body, and become more comfortable with your own thoughts. Take a few minutes on June 21 to dabble in the practice. Who knows, maybe it will spark a new routine.