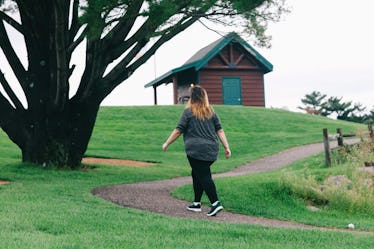 Lululemon Wants You To Get Into "Mindful Running" & Here's How To Get Started
Forget everything you know, or assume you know, about meditation. I know influencers have visually set the scene of mindfulness as this sedentary act of sitting cross-legged with your eyes closed on a floral-pattern yoga mat, and yeah, it's a serene image: your arms grazing the tops of your legs, forefinger and thumb just barely touching, the steady rise and fall of your chest. But can I let you in on a secret? Getting zen isn't about aesthetic, or the position of your hands, and it certainly doesn't require you to sit still, which is exactly what mindful running is trying to defy. Meditation is first and foremost an opportunity to regroup, to catch your breath, and to be present in the here and now, whether that's on your bedroom floor, or your favorite trail.
Mindful running isn't exactly the new kid on the wellness block, but it's definitely one that deserves more attention. The concept behind a meditative approach to running is, yes, to get your head in the game and focus on achieving your goals, but it's more or less about enjoying the actual run, and acknowledging the strides your body might have to take in order to get to the finish line.
To bring mindful running to the forefront of health and wellness, Lululemon's director of mindful performance, Danielle Mika Nagel, sat down with Elite Daily for an exclusive interview on how runners, yogis, and fitness novices alike can benefit from throwing on a pair of sturdy sneaks, performance-enhancing gear, and hitting the ground running with a positive attitude.
"Mindfulness is a part of Lululemon's DNA," Nagel says. "We believe in the power of practice and feel that yoga as a philosophy and practice is applicable and expressed in many ways. It was only natural that we extend mindfulness and the principles of yoga to running and everything we do."
So, where do you start? Here's everything you need to know about mindful running.