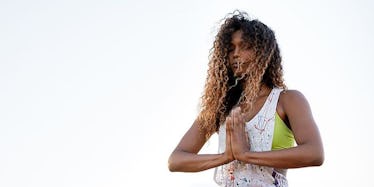 5 Awesome Ways Yoga Can Change Your Brain When You Practice Every Single Day
If you've ever been to a killer yoga class, you know how absolutely amazing you can feel after a rejuvenating, hour-long flow. With typical forms of exercise, those good feels are often limited to just your body, but what makes yoga truly unique is the positive effects the practice has on both your body and your mind. A number of studies have shown how yoga changes your brain, proving that this ancient practice extends far beyond the physical body.
In Sanskrit, yoga means "union" — a union between the physical body and the inner workings of your mind. During a yoga session, deep inhales and exhales are used to link each of your movements with your breath, making the practice a truly moving moment of meditation.
Incorporating just a few minutes of yoga into your routine can provide you with an extensive amount of mental health benefits, and these mindful movements have even been shown to be a natural remedy for anxiety and stress.
Now, this doesn't mean that hitting up a single vinyasa flow is going to melt away all of your stresses for the rest of your life. But making time for a daily practice can truly teach you how to cope with uncomfortable and unpleasant situations that may have otherwise been pretty difficult to deal with.
From deep, expansive breathing, to mastering downward facing dog, here are five ways yoga can change your brain when you practice every damn day.