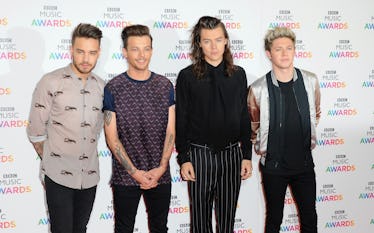 This One Direction Star Won Solo Breakout Star Over All His Former Bandmates
Eamonn M. McCormack/Getty Images Entertainment/Getty Images
I'm not ashamed to say that I live for the possible drama that revolves around awards show season. While it may be all fun and games most of the time for these artists, every once in a while there's a moment that has us all biting our nails. Well, it turns out that Louis Tomlinson won Solo Breakout Star at the iHeartRadio Music Awards on March 11, and his speech was way classier than I expected, TBH.
While many may not be that surprised by the outcome, there could have been some major drama involved with this award category. For those not familiar with the magnitude of this year's category, let me break it down for you. Five breakout performers were nominated this year, and to me they're all winners, but four of them in particular know their competition very very well. Among the nominees were Camilla Cabello, Harry Styles, Liam Payne, Niall Horan, and Louis Tomlinson.
Yes, you read that correctly. The last four members of One Direction went head to head in the same exact category, and it turns out Tomlinson is going home with that award this year.
This isn't the first time these former bandmates have battled it out during the iHeartRadio Music Awards, just last year both Horan and Tomlinson went up against Zayn Malik for Best Solo Breakout. Malik ended up taking home the award for his debut solo album Mind of Mine.
Tomlinson filmed his acceptance speech through a video that aired during the iHeartRadio Music Awards on March 11. Along with his friends and families, Tomlinson specifically thanked his fans for all the support they've given him during his journey.
Here I thought that would be one of the most dramatic moments in music award history. It actually turns out Tomlinson was the upmost humble during his speech.
Literally me waiting for the drama.
I'm not even that disappointed. That acceptance speech was too heartwarming.
Voting during the iHeartRadio Music Awards isn't like the typical music awards show. While some results are up to the iHeartRadio powers that be, a lot category winners are up to fan votes. These categories include Best Music Video, Best Lyrics, Best Remix, and you guessed it, Best Solo Breakout.
I'm sure there's some friendly competition with the One Direction boys, but it's no secret that Directioners are not fans to be played with. Once polls opened to decide who would be Best Solo Breakout, the hashtag #OneDirectionBestFans was trending number one worldwide.
Former One Direction member Liam Payne took to Twitter to express his gratitude, and made sure to share the moment with his past bandmates.
Louis Tomlinson responded by thanking the fans.
The heart breaks for all those loyal Directioners out there. No matter who won, they knew their other faves had to lose.
Regardless of the winner, there's no denying that every nominee deserves a standing ovation for all they've accomplished this year.
While the possibility of One Direction drama might have gotten a lot of the attention, Camila Cabello, the only woman nominated for Best Solo Breakout, is no stranger to pop groups herself. After parting from girl group Fifth Harmony in 2016, Cabello produced hit after hit with her solo songs "Havana," "Crying in the Club," and joint record "Bad Things" featuring rapper Machine Gun Kelly.
During an interview with Net-a-Porter's The EDIT, Cabello opened up about her reason for leaving Fifth Harmony.
She said,
With the experiences we had being in the studio, I became super-curious about songwriting and it was around the time — I think it was the second year that I was with the group — that I wanted to start songwriting for other people ... But once I was old enough to experience my first kiss, or the first time that I went out on a date, I began writing songs about it, and I didn't want to give them away to anybody else because they were about me. I was finding my voice, and with it, I found the passion that gives you a deeper meaning.
Cabello clearly did find her voice, and no matter the shade her former bandmates might throw at her, it doesn't look like this pop princess has any plans to stop.
Congrats to Louis, and of course all the other nominees! You're all winners in my book.