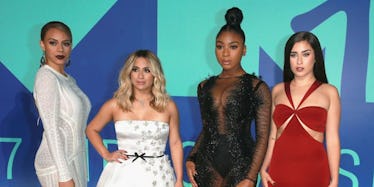 Fifth Harmony Threw Some Shade At Camila Cabello At The VMAs
Rich Fury/Getty Images
It looks like the girls of Fifth Harmony are absolutely no strangers to throwing shade when the time is right. Here we all are, just sitting at home, watching the 2017 VMAs, waiting for some drama to come along. And then, Fifth Harmony shades Camila Cabello at the VMAs, and we have it.
Now, this was a pretty important moment in the beginning of their performance of their latest songs "Down" and "Angel," so let me recap it for you in case you missed it. Basically, the performance started out with five people standing atop a raised stage. Right before the girls started singing, one of the five people intentionally "fell" off the back of the stage. Then, Lauren, Dinah, Normani, and Ally continued their freaking fire performance, dancing in shining silver puffy coats like nobody's business.
As you may already know, there used to be five people in Fifth Harmony (hence, the whole "fifth" thing). However, in December 2016, Camila Cabello announced she was leaving the group, devastating harmonizers everywhere. Thankfully, both Camila and Fifth Harmony have forged ahead on separate paths, both continuing to crush with their music. This certainly isn't to say things have been totally smooth between Camila and Fifth Harmony since the split, which is why fans are speculating that the beginning of 5H's performance was a bit of subtle shade to Camila. OOOOOH, BURN.
Earlier in the night, Fifth Harmony also subtly swerved a question during an interview that could've opened the door to some more overt shade at Camila. MTV red carpet co-host Charlamagne Tha God asked the group, "Now if y'all win the choreography award, do you give one to the member who's no longer in the group?" And rather than throwing Camila under the bus, Normani simply replied, "If we win for best choreography, we'll actually give it to our choreographer. He deserves it."
Damn right, that's how you do it. Swerve the hard questions and let the art speak for itself, ladies.