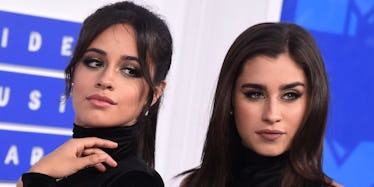 Fans Think This Fifth Harmony Singer Shaded Camila Cabello On Twitter
REX/Shutterstock
Things have been not so fifth and not so harmonious for Fifth Harmony recently.
After Camila Cabello abruptly quit the band two months ago, the ladies have not been on the best of terms.
So when current Fifth Harmony member Lauren Jauregui tweets something cryptic and shady, like she did on Tuesday, it's hard not to interpret it as a Camila diss.
The 20-year-old singer tweeted,
Fake that confidence bih, one day it'll be real.
Fans immediately started speculating on the shade of it all.
The tweet came a day after Cabello's cover story with Seventeen magazine dropped, in which she opened up about her decision to leave the girl group.
Cabello said,
Fifth Harmony wasn't the maximum expression of me individually. My fans are really going to know me from the music I'm writing. My goal is to be brave and open up my soul.
Oof. That's pretty cold.
To be fair, she also went on to say she wishes the rest of the Fifth Harmony ladies the best, etc, etc. (But she pretty much has to say that.)
Cabello's departure was announced on the official Fifth Harmony Instagram back in December. A statement from Ally Brooke, Normani Kordei, Dinah Jane and Lauren claimed Cabello told them the news not in person, but through her representatives.
The statement read,
After 4 and a half years of being together, we have been informed via her representatives that Camila has decided to leave Fifth Harmony. We wish her well.
Cabello responded with a statement of her own, stating the claim was "just not true."
Cabello wrote,
I was shocked to read the statement the Fifth Harmony account posted without my knowing. The girls were aware of my feelings through the long, much needed conversations about the future that we had [during] the tour. Saying that they were just informed through my representatives that I was 'leaving the group' is just not true.
Then Fifth Harmony responded AGAIN, with an even longer, even bitchier statement, claiming it was true, actually.
They said Cabello refused to attend group counseling and band meetings to discuss the band's future and that they were "truly hurt" by her departure.
Sooo yeah. They're not exactly on the best of terms right now.
Cabello, who is 19, is currently working on a solo album.
So you just keep tweeting that shade, Lauren.
Citations: Camila Cabello Opens Up About Life After Fifth Harmony (Seventeen)