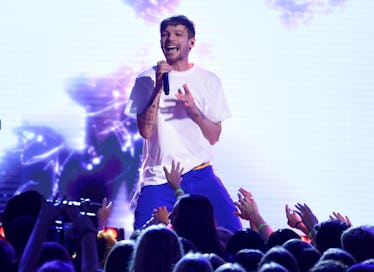 Louis Tomlinson Teases His New Single On Twitter & Fans Are Totally Losing It
Kevin Winter/Getty Images Entertainment/Getty Images
Fans were not prepared for Louis Tomlinson's news today. Yes, Louis Tomlinson teased his new single, "Just Like You" and let's just say it was a total surprise. A very, very pleasant surprise. So, who is "Just Like You" about? Let's dive into it.
Tomlinson's fans woke up to a series of tweets from the singer explaining the new tune about to drop. He kicked it off by saying "So I wrote a song called 'Just Like You' a few months ago. After a few conversations with the label I told them that I wanted to release it."
He continued: "My next single will be a bit later this year but I wanted to share this with you now. This is for you lot ! ‪#JustLikeYou." Tomlinson noted: "The song will go live on the usual platforms at midnight local time. NZ and Aus be ready."
Fans are so ready for it, but what can they expect? Luckily, Tomlinson gave a hint at what and who the song's about, tweeting: "This is one of my favourites from the album. Conceptually I think it's sums me up!"
He added: "This song is for you :) ‪#JustLikeYou."
Fans were quick to unpack everything that Tomlinson said in his announcement, but got a little hung up on a couple of key points: 1) he says "conceptually I think it sums me up" and 2) "this song is for you."
While everyone chewed on that info for a bit, Tomlinson then tweeted a photo for the new single, showing him casually playing a game of pool. Yeah, not much to go on there either, but the singer is looking very good.
Over the summer, Tomlinson touched on the meaning behind "Just Like You," telling BBC News: "There's one song I'm really attached to called 'Just Like You,' which is all about this view of celebrities that we're impenetrable and almost not human, but fundamentally we all have the same problems."
He added, "Heartbreak feels the same, loss feels the same, all these feelings are the same for all of us. Mine just took a load different to, maybe, Tom who works in the chippy from nine to five."
Anyone looking for who "Just Like You" is about only needs to look at Tomlinson himself and others in his situation. Celebrities are idolized and their feelings become invalid to fans, as Tomlinson notes the perception is that they're "almost not human." Sad, right?
Check out some of the "Just Like You" lyrics:
[Verse 1]
It's the guy from the one band
Cigarette in my left hand
Whole world in my right hand
25 and it's all planned
Night out and it's 10 grand
Headlines that I can't stand
[Pre-Chorus]
But you only get half of the story
The cash, the cars, and the glory
No sleep and we party 'till morning
'Cause nobody cares when you're boring
[Chorus]
I'm just like you, even though my problems look nothing like yours do
Yeah I get sad too, and when I'm down I need somebody to talk to
Yeah, I feel the same as you do too
Same stress, same shit to go through
I'm just like you if you only knew
[Verse 2]
If I had it my way, pub lunch every Sunday
Cheap beer and it's okay
I wanna lay where she lays
I wanna stay in these days
Gonna smoke and it's okay
He also told BBC News that there's a lot of emotion, heart, and life experience in his upcoming album, explaining:
I wanted to make the album feel chronological, because that's how I wrote it. You can hear my journey as an individual over these three years — leaving the band, then going out on to the really crazy party scene, and then I've kind of ended up full circle back with Eleanor [Calder], who I love dearly.
Fans have been understandably losing it over the new song, with one tweeting: "louis poured his heart in just like you, leave me alone i'm crying."
Another fan added: "My heart actually hurts for Louis after listening to Just Like You. He is just like us. He's human too." Right?
This fan appreciates how Tomlinson made his feelings known in the song, tweeting: "just like you is so personal and noah fence you can tell how much louis loves and trusts his fans to put something that personal out there."
What do you think about Tomlinson's newest single?
Check out the entire Gen Why series and other videos on Facebook and the Bustle app across Apple TV, Roku, and Amazon FireTV.