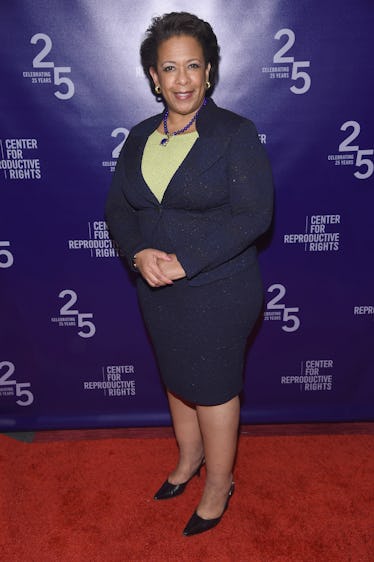 Obama's Attorney General Has Great Advice For Young Women To Get Through A Trump Presidency
Gary Gershoff/Getty Images Entertainment/Getty Images
On Tuesday, Oct. 24, the Center for Reproductive Rights, a legal group dedicated to fighting for women's health through the courts, celebrated its 25th anniversary in New York City. It's a particularly interesting time for a celebration, given that politics is at a push-and-pull moment when it comes to a woman's right to her own body. Former U.S. Attorney General Loretta Lynch, who was appointed by President Barack Obama and served from mid-2015 until the inauguration of Donald Trump in January 2017, was honored at the celebration for her support for people's rights through the law. Over the course of the evening, Lynch had some excellent advice for young women on how to get through the next three years of a Trump presidency, and in an interview with Elite Daily, she pressed readers to remember that "you always, always have your voice, so use it."
Lynch, who was the first African-American woman to serve as U.S. Attorney General, embodied steady justice in her tenure, which included charging the 2015 Charleston, South Carolina, church shooter with federal hate crimes and having the Department of Justice investigate the Baltimore police department following the death of Freddie Gray. But her Attorney General successor embodies the fears that many Americans have about the Trump presidency: The first female African-American Attorney General was replaced by Jeff Sessions, a white man who was considered too racist to be a judge in the 1980s by the U.S. Senate Judiciary Committee. But in the face of the fears that Sessions and Trump will together propel our country backward instead of forward, it's Lynch's resolution to keep speaking — and her pressure for others to make use of their voices — that serve as a much louder, much more vital message to young people.
Government is more than who the president is. It is more than who the cabinet is. Government is all of us, and we cannot be silent.
Before the awards presentation, Lynch tells Elite Daily that the key for all young people — "but particularly for young women" — is to "find an issue that's important to you and use your voice to uplift that issue." She explains that organizations like the Center for Reproductive Rights have been around so long for a reason, a testament to the strong work and the ongoing nature of the fight for progress. After all, "the fights aren't new, and they aren't going away."
"Sometimes, it can certainly seem as if the power structure is not on your side, and sometimes that can be the case," Lynch says. "But you always have your energy and you always, always have your voice, so use it. Always use it."
This was a theme Lynch expanded on in her award acceptance speech, where she addressed the crowd of dozens of supporters of the Center for Reproductive Rights, which included health care providers, attorneys, and plaintiffs who have fought landmark cases for rights, such as Amy Hagstrom Miller, the founder and CEO of Whole Woman's Health. In her speech, Lynch implored the audience to keep using their voices as the Trump administration makes policy changes, both within the United States and abroad, like the reinstatement of the Global Gag Rule, affecting women's abilities to access proper health care. "Because these changes are being wrought in the name of our government, we cannot be silent," Lynch explained.
Lynch's words ring incredibly true as just hours earlier on Tuesday, Oct. 24, the full U.S. Court of Appeals for the D.C. Circuit ruled that an undocumented teenager in Texas should be allowed to get an abortion. The girl, who is going by the pseudonymous name Jane Doe, had been blocked by the Trump administration, raising questions about its stance on the rights of women and undocumented people. Lynch asked in her speech, "Why is it that every man's hand is turned against her in this, her hour of need? Because she represents every teenager who faces the power of the state alone, we cannot be silent."
Lynch delivered her speech as the Trump administration is pushing forward with attacks against access to birth control. Between that and the Jane Doe case, there are heightened concerns that Trump will soon look to fulfill a promise he made during the presidential campaign to make abortion even less accessible, if legal at all (abortion has been legal across the country since the landmark 1973 Roe v. Wade Supreme Court case).
These attacks on women's health, including violence against abortion clinics and providers, are not new, as the Center for Reproductive Rights and its 25 years' of work can tell you. Lynch added that the attacks come from an "age-old anger" that occurs "everywhere that women dare to seek a voice."
While these are "challenging," "concerning," and "troubling" times, according to Lynch, it's all just a part of the long path towards progress. As she said in her speech, echoing Obama's comments about America's path last November after the election of Trump, that path has never been particularly straight. Yet despite the twists and turns, Lynch still believes that Americans will push our country forward:
We have always pushed forward, we've always held on to our better selves. We've always sought to give those who needed us that voice. We've always sought to uplift that choice, the choice to be American, the choice to be free, the choice to share that liberty with those who come here for those same blessings and benefits.
Because ultimately, the former attorney general explained, "Government is more than who the president is. It is more than who the cabinet is. Government is all of us, and we cannot be silent."
You heard her. Now go out and make your own voice heard.