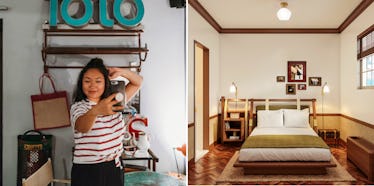 This New Hotel Has Its Own Social Network & It's A Game-Changer For Millennial Travelers
Just when you thought you knew everything about traveling, something else comes onto the scene. Your favorite travel influencers are in a city you barely recognize, or a new app comes out that helps you score flights at a decent price. (It's an entire industry within itself, and one that's hard to keep track of a majority of the time.) Girl, I'm right there with you — scrolling through social media, trying to find the must-see spots around the world and some sweet accommodations. Let me tell you something that you likely don't know: Life House Hotels' social network is made for the millennial traveler, like me or you. Don't sleep on this one (well, until you hit the hay at the hotel), because it's another game-changer.
There isn't a specific moment in time when millennials became obsessed with all things travel. But, it's been a while now since hopping on planes and scoring passport stamps has become part of our culture. Most of your friends might be choosing to spend a semester abroad, or you're saving up for trips instead of a house or brand new car.
When all is said and done, this generation just has different priorities, and you want to bring your passions onto a global scale. You want to connect with solo travelers and have conversations with people from around the world. Where do you even begin? Well, tackling a few places on your bucket list is a good start, and then turn to your technology.
That's right. Your phone has the ability to once again create a community for you — this time within the Life House Hotels. This hotel company, with several incredible locations already, is the first to have a built-in social network — giving their guests a one-of-a-kind and very millennial experience.
What's the scoop on Life House Hotels?
Here's the scoop: Life House Hotels is incredibly new to the travel scene, but moving some mountains for millennial travelers. They're allowing their guests to connect with one another within an app, based on the dates of their trip and the location. From there, they can chat, make plans, join forums, and just upgrade their experience to an entirely new level.
It's expected for there to be more than 20 hotels, the first of which will open in Miami, Florida this winter. The Little Havana location will be ready for guests in Dec. 2018, quickly followed by the South Beach property. (Long story short: You're getting the insider details so that you can book your stay ASAP.)
In addition to the technology features that will come with these hotels, Life House is making an effort to design the locations similarly to the local atmosphere. During your stay, you will feel entirely immersed in the culture of the area — and can expect rooftop pools, gardens, and even bluetooth speakers in your room. Sweet!
What's Life House Hotels' social network feature like?
So, what exactly can you expect from the social networking feature of these properties? Well, it's quite simple. Think about any group chat you've been a part of, or even just a basic texting service. This app is going to work in a similar way — allowing you and other guests to message each other and make plans, or talk to verified locals who know the area and can give you some suggestions.
Maybe you'll meet up for dinner at a restaurant down the block, or go to a beach with a couple of people who have lived in that specific location for years. Suddenly, you and your best travel buddy are making friendships that could easily last a lifetime.
Although you can have your own room, many of the hotels will also use the app to organize shared rooms in the future. These accommodation arrangements will work similarly to a hostel, where several travelers will be able to stay in one place with bunk beds. Using the app, you can meet your new travel mates ahead of time, and build a profile that'll match you to guests with similar preferences. (Little details like that can truly make such a big difference when you're looking back on a trip down the road.)
How are these hotels game-changers for millennial travelers?
Life House Hotels is about to change the game, specifically for millennial travelers. This generation is looking for a local experience, an aesthetically-pleasing place to stay, and any accommodations that come with the ease of technology. This company recognized all of those needs, and worked those concepts to create an experience that's truly one-of-a-kind.
Thanks to the social networking feature, solo travelers can meet people wherever they go. Even best friends who are adventuring together can benefit from connecting with those verified locals, and instantly have a more well-rounded trip. It's not about getting off the grid when it comes to these hotels, and the millennial traveler won't mind one bit.