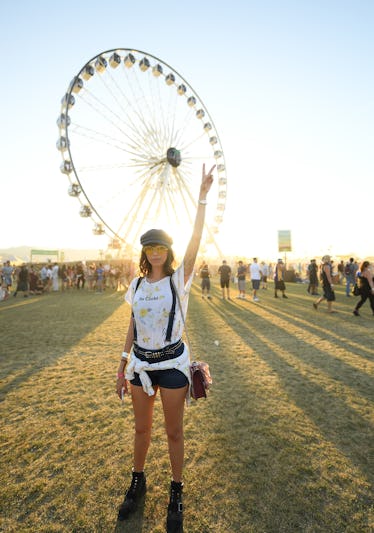 Read This Last-Minute Festival Checklist If You Want To Have The Time Of Your Life
Matt Winkelmeyer/Getty Images Entertainment/Getty Images
Put your peace signs up! Your long-awaited music festival weekend is finally just a few days away. You're more than ready to hit the road with your besties and make some memories that will last a lifetime. You planned your outfit months ago. Actually if you're being honest, you started looking for some style inspiration just seconds after buying your ticket. You've seen enough pictures on social media to know that life is about to be legendary, and you're basically walking a runway. Before you go, though, you'll want to look through this last-minute festival checklist, so that you can make all the sweetest memories this festival season.
Spending days in the desert means that there are essentials you have to pack that you might not think of for any other trip. You're going to need a serious nap after this weekend, because the days will most definitely be long. But, planning accordingly will help your flower child soul make it to the shows that last until midnight. Let's be real — you're basically living all your dreams, anyway.
Seriously, you're about to make the world super jealous with your unreal music festival weekend. All of your favorites are going to be in your presence, and you'll be riding ferris wheels and the like in the afternoon between shows. Even if you've never been a fan of camping, you'd do anything for Beyoncé and the other headliners that'll have you in awe. As long as you have these 10 things, you'll be good to go.