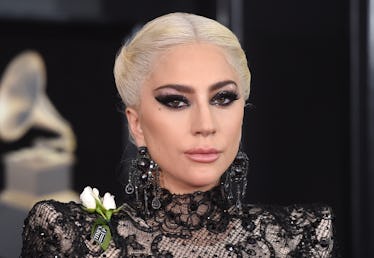 Lady Gaga's Grammy Look Brought Time's Up To The Music Industry
Jamie McCarthy/Getty Images Entertainment/Getty Images
In my opinion, there's one award show that stands above the rest in terms of fashion solely because of who attends it. To put it simply, the sartorial magic is in the musicians. Lady Gaga's 2018 Grammys look proves my point tenfold, which should actually come as no surprise at all considering she's known for bringing some of the most outrageous looks ever to the red carpet.
Gaga is not one to abide by fashion rules, nor is she one to shy away from the strange, the ultra glam, or the flat-out weird. (Remember the meat dress she wore to the MTV Video Music Awards in 2010? What about that plastic swirl of a creation she rocked at the Grammy Awards that same year?) She's always danced (or dressed) to the beat of her own drum, which has subsequently helped to encourage red carpet dressing to be more imaginative, personality-rich, and interesting.
Gaga's look for last year's Grammy awards was a huge departure from what most of her musical peers were wearing, and it absolutely rocked. It featured black leather hot pants with a matching long-sleeved crop top, except the crop top had a reverse cleavage cutout that exposed Gaga's stomach and underboob. The arms of the top burst out into sea urchin-like spikes, while she paired the hot pants with fishnet tights and thigh-high boots. She looked like the badass dominatrix of my dreams and shut down every notion that red carpet dressing had to mean a romantic gown or a version of the pantsuit.
At the 2017 Grammy Awards, she took on an entirely different persona, emulating David Bowie, who died shortly before event, with her look. She wore a gorgeous royal blue dress boasting shoulder pads and intricate embroidery, and nailed her beauty look with bright orange hair and crystalline blue eyeshadow. It was one of the most strangely beautiful red carpet looks I've ever seen, and one that I will absolutely never forget.
Tonight, Lady Gaga has once again slayed iconic style, this time in a lacy black dress. She's nominated for two awards, Best Pop Vocal Album for Joanne; and Best Pop Solo Performance, for "Million Reasons," and her look is completely fitting for the huge occasion.
TBH, Gaga looks gothic in the best way possible. Her dress has a sheer black top with gorgeous designs and a draping black bottom. Some might call it "Victorian," while others might call it mysterious. Either way, we're loving it.
Another asset to Gaga's look is causing quite the stir on Twitter, and Taylor Swift is involved. It appears the "Bad Romance" singer is wearing a snake ring, and the internet thinks it's a clue that she's working with Taylor Swift. I don't know about you, but a Gaga/Swift mashup would be freaking amazing.
Whether you're down for collaboration, you have to admit her snake ring is super similar to Taylor Swift's new brand. It's dark and mysterious, and reminds us of all the snake references T. Swift uses in her music.
Take a look for yourself — you'll probably be convinced there's a collab coming, too.
See what I mean?! It pretty much screams "Taylor Swift."
Regardless of whether or not Gaga's ring choice is a shoutout to Taylor, you have to admit that her accessories are on point. Plus, her hair looks freaking amazing.
She basically has laces in her hair, and I'm obsessed. Gaga, you look fabulous.
Based off her multiple Grammy looks throughout the years, I'm excited to see what else Gaga wears throughout the award show. Whatever her outfit may be, I'm sure it'll slay.