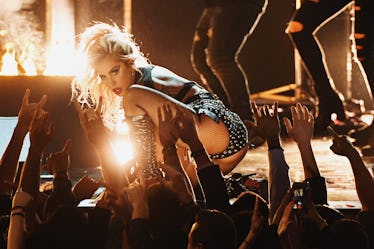 The 2018 Grammy Awards Will Be Longer Than You Think
Kevin Winter/Getty Images Entertainment/Getty Images
The 2018 Grammy Awards are almost here, and do you know what that means? I'll tell you: It means ogling at all of the beautiful people on the red carpet, the expectation of laughing your butt off at the host's commentary, and, oh yeah, all-star performances by some of your favorite artists. If you're like me, you wish that awards season would last forever and ever, so you can just get sucked into some glamorous wormhole in which you never have to leave. Unfortunately, the real world still exists even after these shows end, but luckily for us, the Grammys this year should fill up your entire evening. Yay! So, how long are the 2018 Grammy Awards? If you'll let me, I will tell you everything you need to know about the 60th Grammy Awards, and probably even some stuff you didn't need to know, because I'm an over-sharer (and yes, I've been made aware that sometimes it can be a problem).
The 2018 Grammy Awards will officially start at 7:30 p.m.
The 60th annual Grammy Awards will take place on Sunday, Jan. 28, at Madison Square Garden in New York City, and will start at 7:30 p.m. ET on CBS and will end at 11 p.m. ET. But, for those of you who want to know when the real party starts (aka the Grammys Red Carpet), you can start watching that at 6:30 p.m. ET., hosted by Entertainment Tonight's" Nancy O'Dell, Kevin Frazier and Keltie Knight. And honestly, who are you if you DON'T want to watch the red carpet? That's where we see our favorite artists sporting some kickass ~lewks~ like this:
Moral of the story: Don't miss the red carpet. Any red carpet.
James Corden will be the 2018 Grammy host.
We can expect some pretty big laughs knowing that actor/comedian and late-night talk show host James Corden will be this year's Grammy host. He's funny, yes, but let's not forget that he also has musical chops, singing along with artists like Adele and Harry Styles on Carpool Karaoke. Also, we kind of already know that he's going to crush it, considering he was the host for the 2017 Grammys and started the night off right by pretending to have a stage malfunction, "scolding" his backup dancers, then bursting out into a rap about what was to come for that night, and it was pretty damn epic.
Seriously cannot wait for what's in store for this year.
Popular artists are already slated to perform.
The Grammys are a pretty big night for the music community, so the performers are always expected to be top-notch. Welp, we're in luck, because the list of artists who are performing are what musical dreams are made of. On the list: Lady Gaga, P!nk, Childish Gambino and Little Big Town are all set to take the stage at the Grammys. But wait, there's more!
On Jan. 10, additional performers were announced, and the world did a happy dance: Bruno Mars and Cardi B will take the stage, as well as nominees Luis Fonsi and Daddy Yankee, Kesha and SZA, so you'll be wanting to turn your TV's volume wayyy up come Jan. 28. And, according to Billboard, "Alessia Cara, Khalid and Logic will team up for a performance, taking the stage with a group of suicide attempt and loss survivors in a special performance of "1-800-273-8255."
Talk about an incredible lineup, amirite?
So whether you are totally watching the 2018 Grammy Awards for the fashion only, or if you watch the whole damn thing from start to finish, performances and all (and perhaps using your wine bottle as a microphone, no judgment from me), let's just take a moment to prepare ourselves for what will undoubtedly be a fantastic night.
We see you, 2018 Grammys. And we love you.