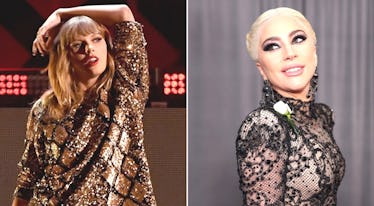 Lady Gaga May Have Just Hinted At A Major Secret Involving Taylor Swift At The Grammys
Kevin Winter/Getty Images, Christopher Polk/Getty Images
Pop music fans, prepare to be shook. The Grammy red carpet arrivals kicked off with a huge bang on Sunday night. Lady Gaga was one of the first stars to arrive, and she dropped a major hint about who she may be working with next: Taylor Swift! That's right — viewers picked up on one detail in Gaga's outfit that seems to suggest that a Lady Gaga and Taylor Swift collaboration could be on its way.
Lady Gaga stole the show on the Grammys red carpet in a gorgeous black gown and an eye-catching shoelace-like accessory woven into the back of her hair. But the fashion detail that everyone on Twitter immediately noticed was the snake ring on her finger. Now, everyone who has been even slightly paying attention to pop culture in the past couple of years knows that snakes have become somewhat synonymous with Taylor Swift — Kim Kardashian first assigned the animal to her negatively, but then Swift took the comparison and ran with it, making the snake the spirit animal for her current Reputation era. Swift's merch store is packed with snake-themed accessories, including pieces of jewelry. It looks like Gaga actually bought her serpentine ring from Swift's merch store. Check out Gaga's ring below:
And now compare that to the black snake ring available on Taylor Swift's merch store:
Yep — that definitely looks like a match! Immediately, Taylor Swift fans and Lady Gaga fans alike noticed the small but meaningful accessory, and started a mass freakout on Twitter. What does it mean? Is Gaga just showing her support for Taylor Swift, or could it be even bigger than that? Do we smell a collaboration on the way!? There is a lot to figure out.
And along with the snake ring, Lady Gaga even dressed a bit like Taylor Swift's Reputation era. Swift made a major departure from her past country-pop vibe this past year, when she released her latest album Reputation. Described as a dark new sound and aesthetic for Swift, the singer marked the new album with black, sleek clothing and her blonde hair slicked back. It looks like Gaga may have picked up a few notes from Swift's new styling with her Grammys gown as well, and topped that all off with the snake ring. Check out all the best tweets about Lady Gaga's nod to Taylor Swift on the Grammys red carpet below:
Even though this ring seems like a tiny detail, it could actually have a huge implication in the pop music world. As we all know, Lady Gaga and Taylor Swift are two of the biggest names in music right now, so a potential collaboration between is massive. Adding some weight to this possibility is the fact that Gaga and Swift have both been exploring the genres of pop and country a lot recently. Gaga started out as a dance pop artist, but put out a country and folk-inspired album called Joanne last year. Conversely, Swift began her career as a country star, but gradually shifted into more straight-up pop music, culminating in her most dance-pop album yet last year, Reputation. Since both Gaga and Swift have a history exploring the same genres, a country-pop collaboration between the two of them could actually make a ton of sense.
Of course, we might be jumping the gun too much with this talk of a collaboration right now. It seems most likely that Lady Gaga was actually just showing her support for Taylor Swift... but still, that must mean the two artists are getting close recently, right? Hmm, we will have to see if this newfound friendship take a trip to the studio soon.