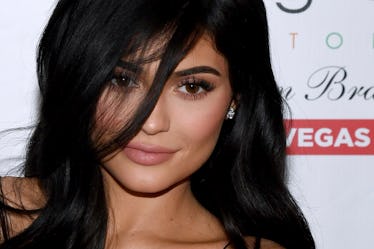 This Tiny Detail From Kylie Jenner's Photo Of Her & Stormi Has Fans Freaking Out
Ethan Miller/Getty Images Entertainment/Getty Images
Kylie Jenner is a true superstar. Everything she does, says, wears, and posts has all of us fans continually fascinated. But some things are more fascinating than others — things like Kylie Jenner's ring in this photo of her and Stormi Webster. Can we say, iiiiinteresting?
On March 1, Jenner posted a birthday message of sorts to her baby girl. The first full photo of mom and baby together celebrated the latest heir to the Kardashian-Jenner dynasty, who was born on Feb. 1, 2018. "[M]y angel baby is 1 month old today," Jenner wrote. The post shared two pics of momma and daughter, showing Jenner full-length, wearing a tracksuit patterned with tree branches and leaves, with white sneakers on her feet. In her arms baby Stormi — one month old! — cuddles up in a hooded white onesie with animal ears. (Side note: animal-themed clothing on babies is literally the cutest thing around, so props to Jenner for the adorable choice. OK, let's continue.) The second photo also offers a glimpse of little Stormi's face, which fans have been dying to see ever since we found out she had been born.
But there's something else in the photo that fans are noticing too. Do you see it? Look closely. Closer. Closer.
Why yes, that does appear to be a ring on that all-important third finger of Jenner's left hand.
Eagle-eyed fans caught the new jewelry within minutes of the pictures going live.
"She's got a ring on it!" wrote a commenter with the handle @missbish82. @elskammereck asked, "ring on wedding finger?"
And some posed the question directly to Jenner. "[W]hat's up with the ring Kylie?!" @emmavk63 wrote, following the comment with emojis of a monkey covering its eyes, the heart-eyes emoji, and a rose.
Seriously. Fans need to know, Kylie.
Representatives of Jenner did not immediately respond to Elite Daily's request for comment on the post.
It's not too out there to speculate that Jenner is engaged.
Jenner has been together with Travis Scott, the father of her baby Stormi, since about April 2017. Though they're still a few months shy of their first anniversary, having a baby together is a pretty significant milestone. So it wouldn't be too surprising if the pair decided to make it all official and whatever. It's also not implausible to think about, considering how lovey-dovey the two looked in the video announcement of Stormi's birth. The video, which chronicled moments from Jenner's very private pregnancy, showed the mom-and-dad-to-be cuddling, going to doctor's appointments together, and just generally acting very much in love.
Though rumors started circulating in September 2017 that Jenner was pregnant, the duo kept us all in the dark for agonizing months. While we all tore our hair out trying to find out for sure if she had a bun in the oven, Jenner was busy taking care of herself and her baby to be. On Feb. 4, the pair finally announced their little girl, sharing that Jenner had given birth on Feb. 1 and apologizing for keeping it quiet from fans. In a post to her Instagram, Jenner wrote,
I'm sorry for keeping you in the dark through all the assumptions. I understand you're used to me bringing you along on all my journeys. My pregnancy was one I chose not to do in front of the world. I knew for myself I needed to prepare for this role of a lifetime in the most positive, stress free, and healthy way I knew how. There was no gotcha moment, no big reveal I had planned. I knew my baby would feel every stress and every emotion so I chose to do it this way for my little life and our happiness.
Understood, Kylie, and I can't blame you for wanting to keep this special experience private and just for you. Just, if you are engaged — can you let us know about it? Preferably before five months have passed.