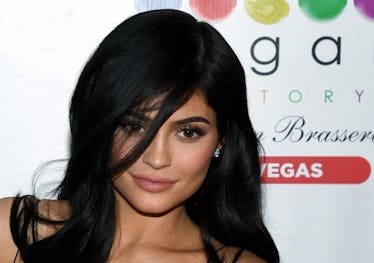 Kylie Jenner's Latest Manicure Features The Sweetest Tribute To Baby Stormi
Ethan Miller/Getty Images Entertainment/Getty Images
When a lot of new moms have a baby, they commemorate the moment by starting a scrapbook or framing their newborn's hospital bracelet, but not Kylie Jenner — she takes a more fashionable approach. In fact, Kylie Jenner's latest manicure features the sweetest tribute to baby Stormi. And the best part is, it's subtle, simple, and understated in the best way possible. Well played, Kylie.
The 20-year-old mom has always used social media to share her favorite beauty products, outfits, and home decor with her millions of followers, and the new addition to her life is no exception. Though she somehow managed to keep the entire pregnancy a secret, Jenner hasn't held back from showing off her new baby girl across all of her social channels. And one thing remains the same: She still loves fashion and beauty. The only difference is, these days, her looks pay subtle homage to her little one.
Weeks after Stormi Webster was born, beauty mogul and new mommy Kylie essentially themed an entire makeup collection after her. Everything from the palette name to the colors and the packaging were dedicated to the infant. And just few days ago, Jenner posted a photo on Instagram of a casual mother-daughter stroll, whilst wearing head-to-toe-Fendi... to match Stormi's bassinet. Even a close look at Jenner's necklace stack from a photo she posted on April 15 shows a gold chain with the words "Baby Mama" on it. It's no secret Kylie is embracing motherhood — she's just doing it in her own way.
As if that wasn't enough, the Stormi-inspired accessories and beauty looks don't stop there. On Tuesday, April 17, Kylie posted a video on her Instagram story of her fresh manicure. At first glance, it may look like your ordinary paint job, but upon closer inspection, you see her nails painted in a light shade of nude with a silver, monogrammed, old-English "S" (for baby Stormi, of course) on her pinky. I don't know if it's the metallic finish on the letter or that fact that it's just that fabulous, but it somehow sparkles without the need of Kira Kira.
She also tagged Modern Pamper Salon in North Hollywood, California, so in case you're in the area, you can get the same look on your nails. No baby? No problem! Get your own initials or those of your S.O. (which, in my opinion, is much better than a permanent tattoo).
If you're not in the area, the good news is, you can achieve the look at home. Make a run to your local craft store for letter stickers (in the scrapbook aisle) and pair it with your favorite nail polish shade. After painting your nails, apply a letter sticker on your pinky nail and finish with a clear coat. And voilá!
Would your mom get a mani inspired by your name? Mine probably would, but only if I booked the appointment for her and verbalized the entire look to the technician. But just as Kylie posted in her Instagram caption of her bright pink hair, she's not a regular mom, she's a cool mom.
What will new mom Kylie Jenner think of next? I can already see a mommy-and-me Louboutins post coming. What about matching haircuts? Or a tiny friendship bracelet made to fit Stormi. Either way, I can just imagine something completely Instagrammable and fabulous is already in the works.
If there's one thing I love about Kylie's new fashion and beauty posts, it's that she proves your life will obviously be forever changed when you become a new mom, but being a parent doesn't have to change you. You don't have to give up your passions, just because you have a baby. You can still do everything you love and wear anything you want, but now, you'll just gain another source of inspiration from somewhere (or in this case someone) else.