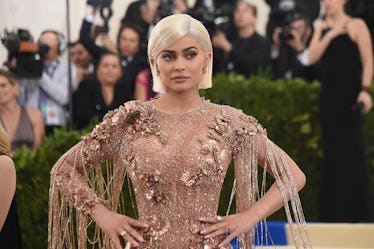 Kylie Jenner Dyed Her Hair & The New Color Makes Her A "Cool Mom"
Nicholas Hunt/Getty Images Entertainment/Getty Images
Although Regina George swears by only wearing pink on Wednesdays, Kylie Jenner is — as per usual — marching to the beat of her own drum. If you haven't already seen Kylie Jenner's Instagram photo of her pink hair, you should check it out. It shows that pink definitely isn't just for Wednesdays, and that she's a total "cool mom."
In classic Jenner fashion, the model and entrepreneur is seriously killin' the game. Just a couple of months into post-pregnancy, Jenner joined her sister Kourtney Kardashian to dance in the desert at Coachella in Indio, California. Their boyfriends, Younes Bendjima and Travis Scott, also tagged along, according to People. In addition to the fact that she actually made it to Coachella after giving birth in February, Jenner surprised everyone with some hot pink locks. In all honesty, she totally redefines "mom goals," and in the words of Chandler Bing, "could she be any cooler?"
Jenner's Instagram was taken after landing at Coachella, according to People. She coolly shows off her new 'do and recites Amy Poehler's classic line, "I'm not a regular mom I'm a cool mom" in the caption. Along with the fact that she looks like a total goddess in her new hairstyle, I am completely and utterly obsessed with Jenner's newfound mommy confidence. She is a total bad*ss, and fans should seriously take note.
The style icon followed her Mean Girls tribute with another Instagram photo, further documenting her drop-dead gorgeous Coachella style. Even though the caption sadly wasn't yet another quote from the comedy classic, the celeb still looks so stunning. This is kind of making me want to dye my hair pink, too... like seriously, I might follow suit. Anyway, the caption says, "cotton candy cream kylighter," and it hints at the fact that her makeup is, of course, Kylie Cosmetics. Her selfie and self promotion game is on fire RN.
It seems like Jenner may have somehow heard what literally all of her fans were thinking (myself included), because her selfie photo shoot did not stop on Instagram. Jenner also took to Snapchat to continue showing fans her bright pink hair and gorgeous Kylie Cosmetics makeup. In all honesty, everything about her pink hair photo collection is fabulous, and I don't think that anyone has ever made the dog ears filter look so good. She is rocking the hair, as well as that post-pregnancy attitude. Werk it, gurl, werk it.
When Jenner isn't busy self-promoting and being the boss lady that she is, she's now officially a full-time mom. And, as expected, she's doing great. On Thursday, April 5, Jenner did us all a major solid and posted some highly anticipated photos of her newborn baby, Stormi Webster. The photos show Stormi snuggled up in a pink blanket with her comfiness level at an all-time high. In the first photo, Stormi is still awake, with the caption "walk w mommy & daddy." By the second photo, Stormi is sleeping, as shown by the caption, "Sleepy Stormi." Stormi is so freaking adorable, and watching Jenner killing it as a mom is so exciting.
Even so, you have to admit that Jenner's bright pink hair looks beyond incredible. Like, can I pull that off? Probs not. But, most notably, her postpartum attitude seems super positive and confident — and the fact that she's having fun at Coachella really is fantastic. I mean seriously, all moms need a day off at some point. Jenner's photos scream #MomGoals —but more importantly, #CoolMomGoals — and that seriously makes all the difference. Tina Fey would be so freaking proud.