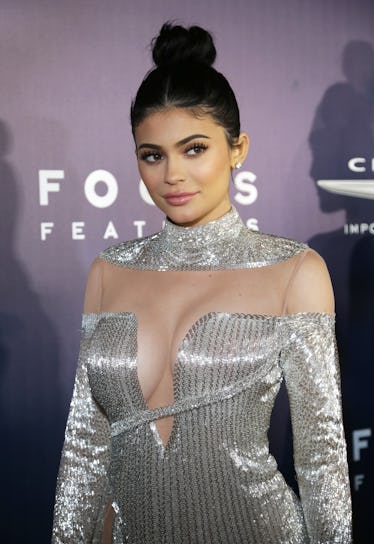 Kylie Jenner's First Instagram Since Announcing Her Daughter's Birth Is So Kylie
Loreen Sarkis/Getty Images Entertainment/Getty Images
She's baaaacccckkkkkk. After nine months of almost complete social media silence while she was pregnant with her first child, it looks like Kylie Jenner is ready to start posting online more regularly. Since Feb. 4, the day she announced the birth of her daughter and her pregnancy, Jenner has been posting on her Snapchat story more frequently and now she has posted on Instagram. And Kylie Jenner's first Instagram since announcing her daughter's birth is all the Kylie glam you missed while she was away.
She posted two photos of herself on Monday, Feb. 12. In the photos, she's sitting in a car I'll never be able to afford wearing clothes I probably can't afford either! Gotta love being relatable! I kid, I kid. Jenner is killing it right now. She's living her life on her own terms, adjusting to being a new mother, and soaking in all the happiness with baby Stormi Webster. Honey, yes! Live that best life!
Jenner posted the photos without any caption because the photos do enough talking on their own. Other caption ideas could be, "Stormi's mama," "Prove your loyalty, buy my lip kits," and "What do you mean you never match your sweatsuits to your leather seats? Do you even Calabasas???"
Just pitching ideas here, Kylie!! Feel free to use!! The post raked in an impressive 6.9 million likes, but that's not even half of the likes she got on the first photo she posted of Stormi, which is now the most-liked Instagram of all time.
Jenner posted the first photo of her daughter on Tuesday, Feb. 6, with a caption that revealed the baby is taking Travis Scott's real last name: Webster.
The caption was "Stormi Webster" with an angel emoji, and the post has a total of 16.9 million likes (and probably still counting). The title of most-liked Instagram of all time formerly belonged to Beyoncé, whose Instagram announcing her pregnancy with twins Rumi and Sir on Feb. 1, 2017, has a total 11.2 million likes. Before this, Selena Gomez had the most-liked Instagram ever, but even that photo has been surpassed by another one of Gomez's posts (the photo she posted when she announced her kidney transplant in September 2017). Before you ask, yes. I am absolutely bitter Kylie Jenner has taken a crown from Beyoncé. The Bey stan in me is screaming, "WHAT GIVES YOU THE RIGHT?!" But the sane person in me is gently saying, "That baby has better nail beds at birth than I will ever have in my entire life. Congratulations to Stormi on all of her success."
Jenner has also been tweeting again ever since Stormi's birth, so it looks like Kylie Jenner might be back on social media for good! She apologized to fans for keeping them in the dark the last nine months in a Feb. 4 statement posted to Twitter and Instagram.
It read,
I'm sorry for keeping you in the dark through all the assumptions. I understand you're used to me bringing you on all my journeys. My pregnancy was one I chose not to do in front of the world. I knew for myself I needed to prepare for this role of a lifetime in the most positive, stress free, and healthy way I knew how. There was no gotcha moment, no big paid reveal I had planned. I knew my baby would feel every stress and every emotion so I chose to do it this way for my little life and our happiness. Pregnancy has been the most beautiful, empowering, and life changing experience I've had in my entire life and I'm actually going to miss it. I appreciate my friends and especially my family for helping me make this special moment as private as we could. My beautiful and healthy baby girl arrived February 1st and I just couldn't wait to share this blessing. I've never felt love and happiness like this I could burst! Thank you for understanding.
Honestly, we all good, girl. I get it. Just let me know when you apologize to Beyoncé for stealing her crown and all will be well. LOL, oops. Bey stan talking again!!