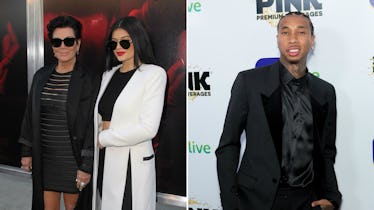 Kris Jenner Just Responded To Rumors That Tyga Is Kylie Jenner's Baby Daddy & OMG
David Buchan/Greg Doherty/Getty Images Entertainment/Getty Images
God bless Kris Jenner and all that she stands for. It's no secret that the momager to the Kardashian-Jenner clan is ultra-protective of her children, but she's also there to dismiss rumors and gossip when she sees fit. And when she does, her response is almost always gold. For instance, Kris Jenner's response to Tyga being Kylie Jenner's baby daddy is classy AF and shows just how quickly she can spit the truth.
During a radio interview with the Australian radio show Kyle and Jackie O. on 106.5, host Kyle Sandilands brought up the time when Kylie's ex-boyfriend, rapper Tyga, threw shade at Kylie's pregnancy situation, insinuating that maybe he was the real father and not Travis Scott. "Tyga was chiming in saying maybe it was his baby," Sandilands said during the interview.
But c'mon, did you really think Kris Jenner was going to let that one slide?
NOPE.
She quickly fired back, saying, "Oh no, no no. I think that was just a bunch of silly rumors as usual."
The host then talks about how he wouldn't believe anything until it came straight from mama Jenner, because, according to him, "Kris always dusts it all off." Jenner laughs and responds, "Yeah you guys know better than that."
Damn, Kris, you tell 'em!
Hey, a mom is always going to be protective of her daughter — and granddaughter — no matter what, so we can't even argue her epic response.
When the world found out that Kylie gave birth to her daughter, Stormi, on Feb. 1, we were also blessed with a YouTube video that showed Jenner throughout the months of her pregnancy. It was obvious from the video that Kris Jenner was there every step of the way, and, at Kylie's baby shower, she was asked to say a few words to her soon-to-be granddaughter on camera. She said,
You've got the best mom, and you're so lucky; this is such a blessing. This is gonna be the most amazing journey. I can't wait to see you, meet you, kiss you, love you... teach you things that maybe only I can teach you, and your mom can teach you the things only she can teach you, so it really takes a village and I learned that along the way.
Kris is even heard in the video telling Kylie, "Good job!" as she's giving birth to Stormi, so if that doesn't tug at your heartstrings, then I don't know what will.
After the arrival of her granddaughter, Jenner spoke to E! News, saying that everything Kylie did throughout her pregnancy was on her own terms. "Kylie did [pregnancy] her way, which I thought was really beautiful," Jenner said. "She just wanted to take the time for her baby and herself. She's doing great."
And, despite the confusion many fans felt when Tyga took to Snapchat and responded to Kylie's reported pregnancy rumors, it seems that he too is happy for her, even though the two of them couldn't make their relationship work. When Tyga joined Complex's web series back in February, he briefly spoke about his breakup with Kylie and how they each have their own life now:
It was a relationship that was in front of the world and that was it ... She has her new life and I have my new life, and that's it. There's no bad blood or problems.
It seems like Tyga is totally over the whole baby daddy drama, and just wants the best for Kylie and Stormi.
But, in the event that the rumor mill decides to churn something else out about the situation, we know we can look to Kris Jenner to swiftly shut that sh*t down.
Kris Jenner is the ultimate squad leader, so sit down, y'all.