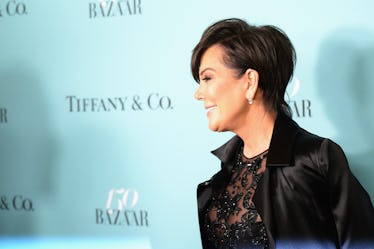 Kris Jenner Says Kylie Jenner Is "Equipped To Handle Whatever Comes Her Way"
Andrew Toth/Getty Images Entertainment/Getty Images
The Kardashian-Jenner family is surrounded by rumors, but mama bear has come to clear a few things up... sort of. Kris Jenner opened up in a recent interview about her children and all the new things happening in their lives. What she didn't exactly address directly were the reported pregnancies of Khloé and Kylie. While she didn't give a definite "yes" or "no," Kris Jenner's comments on Kylie Jenner's "life changes" were extremely eye-opening.
During a recent interview with Entertainment Tonight, Jenner explained that Kylie is "very strong" and will be able to "handle whatever comes her way." As you can see, Jenner is being a little vague and definitely sidestepping any pregnancy questions. She said,
I think she is very strong. I think the strength that she has as a woman and as an entrepreneur, a businessperson, and everything that she's got going on — she's really equipped to handle whatever comes her way. I'm so proud of that kid. She's a good girl with a big heart.
That is so supportive and sweet. Definite mom goals. I'm seriously so interested in knowing for sure if the reported pregnancy news about Kylie is true or not, but Jenner has painted a bigger picture. Kylie has accomplished so much, and, no matter what's going on, she'll be fine.
As far as pregnancy reports and rumors floating around about Khloé, Jenner gave the same type of ambiguous answer. She did mention that the fam loves Khloé's boyfriend, Tristan Thompson, and KoKo has never been happier. Jenner gushed,
We love Tristan so much, and she's so happy, and she's been through so much. Just seeing her be able to do something so creative with [her denim line] Good American — that's her passion. On top of it, to be in such a great place in her personal life is amazing. She's really happy ... She lives most of the time now in Cleveland, so that's interesting, because she's not around every day.
Khloé is my kween so if she's happy, I'm happy. Jenner went on to explain that family is everything to their clan and she's proud of how each child has their priorities in order. She said,
I taught my kids from day one, family is everything — so, that comes first. They've always had their priorities together and I'm proud of that. Their kids always come first, and I think that's important.
The closeness does result in a bit of micromanaging, though.
Jenner admitted,
I think they just see by example. All of us are together, so it's not like I have to sit each one down and say, 'OK, when you grow up, or when you have a baby...' We're so involved with each other's lives that I think they see how we all manage and micromanage our lives.
Of course, Jenner's favorite job these days is being a grandma to her six grandkids. She doesn't look like a traditional grandma in any way, but she totally gushes about it.
It's everything — that's my best [job], that's my favorite. It's the best. The kids bring so much joy, and it makes everything worth it. And they see their moms, and me, and their dads, and family, you know, always together — always working together, playing together. When we're off and we have downtime, we're together. And they see that, and they feel that, so it's really special. They bounce around to all their aunties, and to my house, and it's good.
Kris seriously makes me wish I was a Kardashian-Jenner. No matter what these pregnancy rumors result in, their family is closer than ever. Thanks for spilling the tea, Kris. You're doing amazing, sweetie.
Check out the entire Gen Why series and other videos on Facebook and the Bustle app across Apple TV, Roku, and Amazon Fire TV.