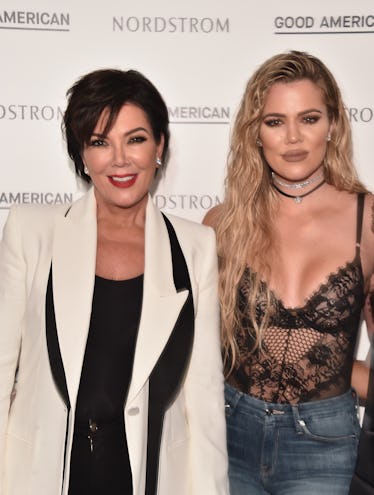 Kris Jenner Reportedly Supports Khloé & Tristan's Relationship, So There's That
Alberto E. Rodriguez/Getty Images Entertainment/Getty Images
All eyes are on Khloé Kardashian in the wake of her boyfriend Tristan Thompson's cheating scandal, and the fate of their relationship has undeniably been one of the most talked about topics this year. So far, Khloé has seemingly decided to stand by her man — a decision that has been heavily criticized by her fans, and even some of her closest family members. But there's one person who has taken a neutral stance when it comes to Kardashian's love life: Kris Jenner. Believe it or not, Kris Jenner's reported comments on Khloé Kardashian's relationship are super encouraging.
The momager attended the 2019 Moschino runway show in Los Angeles on Friday, June 8, where she reportedly opened up about her stance on Khloé's relationship following videos shared on April 10 by The Daily Mail and TMZ. The videos appear to show Thompson making out with multiple women over the course of their relationship. Elite Daily reached out to Kardashian and Thompson's reps for comment on these cheating reports at the time, but did not hear back by the time of publication.
According to People, Jenner opened up about her stance on the relationship to outlets on June 8. She reportedly said, "I think you just have to be there for your kid and follow their lead. I'm not in that relationship or in that situation, so I really trust Khloé. She's so smart, and such a great girl, and she'll figure it out."
Elite Daily reached out to Jenner's team for confirmation of the reported comments, but did not hear back by the time of publication. However, if they are true, well said, Mama Kris.
Jenner sticking by her daughter's side throughout this whole ordeal isn't anything new. In April, days after the cheating reports surfaced, an unidentified source (who is reportedly close to the family) told Entertainment Tonight that Kris' support of her daughter really helped keep her spirits high. The insider explained,
Khloé needs her mom more than ever now. Everyone has always seen Khloé as the strongest sister, but in light of the new baby and the timing of Tristan's cheating scandal, having her mom by her side has been so essential in keeping her spirits high. Khloé and Kris are spending true bonding time with the new baby. Kris is teaching Khloé the ropes when it comes to breastfeeding.
Even though Jenner has apparently taken a nonchalant stance when it comes to Kardashian's relationship, it doesn't mean she's here for the Cleveland Cavaliers baller. In fact, when she was asked about her feelings on the cheating scandal in an interview with Ellen DeGeneres on May 4, her response was more of a show of support for her daughter — and she refused to mention Thompson's name at all.
"I was in Cleveland last week," she said. "It was snowing, and she was all nestled in the nursery and the baby. She's just concentrating on that, being a mom, her baby and that's what her sisters are doing as well." The mom-of-six continued,
She's so excited about motherhood and trying to get the nursing thing down, which is a little tricky. She's trying, she's really trying. She's figuring it out one day at a time, she's just the best mom already. That baby is so cute, little True.
DeGeneres attempted to press Jenner even further about Thompson and the cheating reports, but the PR genius brushed the questions off, saying, "I think we do what we always do, and that's spring into action with love. We all hopped on a plane and flew to Cleveland because that's what we know to do."
We may never know how Jenner really feels about Thompson, and that's OK. At the end of the day, it's only about him and Khloé, and as long as Kardashian knows she has people in her corner to depend on no matter what she decides, she should be just fine.