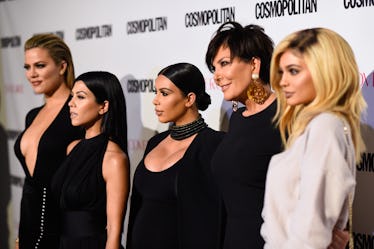 Khloé Kardashian Is Leaning On This One Person Amid Tristan Thompson Cheating Rumors
Frazer Harrison/Getty Images Entertainment/Getty Images
Khloé Kardashian is not letting any negative vibes or news cloud the joy of being a new mother. In the midst of a huge cheating scandal involving her beau Tristan Thompson, Kardashian is said to be leaning on friends and family during this time of need, especially her mom. And, according to sources close to the family, Kris Jenner's support for Khloé Kardashian is "keeping her spirits high."
An unnamed source, who is reportedly close to Jenner and Kardashian, told Entertainment Tonight that Kris is doing all she can to make sure Khloé has the support she needs at this time:
Khloé needs her mom more than ever now. Everyone has always seen Khloé as the strongest sister, but in light of the new baby and the timing of Tristan's cheating scandal, having her mom by her side has been so essential in keeping her spirits high. Khloé and Kris are spending true bonding time with the new baby. Kris is teaching Khloé the ropes when it comes to breastfeeding.
Makes total sense considering how stressful the situation must be. Giving birth and coming to terms with being a new mother is a shock to the system in and of itself — albeit a joyous one. But a cheating scandal as well? Khloé definitely needs all the help she can get and it's great that Kris is right by her side.
In case you're not familiar with the situation at hand... in an April 10 report, The Daily Mail alleged that Thompson was cheating on Kardashian. The NBA star, who was in New York with his Cleveland Cavalier teammates, headed to a rooftop bar and lounge on April 7 and it was there that the alleged cheating incident occurred. The Daily Mail's report included a video of Thompson seemingly getting cozy with another woman — all while Khloé was preparing to give birth. Kardashian gave birth on April 12. Elite Daily reached out to Thompson's and Kardashian's teams for comment, but has not heard back from either party at the time of this publication.
Unfortunately, the rest of the Kardashian-Jenner clan is crazy busy, making it difficult for them to be there for Khloé. Most of the family is currently at Coachella, so Kris wanted to make sure Khloé (who gave birth in Cleveland) and new granddaughter had someone close by. The unnamed source also told ET that Kris absolutely doesn't want Khloé to be alone right now:
Kris doesn't want Khloé to be on her own at this time. Everyone in the family wants to make sure Khloé will always have someone with her at all times. They have no plans to leave her alone.
Sounds like Kris has her priorities straight when it comes to Khloé's well-being, which isn't surprising.
As for Khloé and her situation, it seems she's totally committed to working things out with Thompson. According to People, another source close to the family said Khloé has already forgiven Thompson:
She's basically already forgiven him ... She is in a bubble of love and peace and happiness right now, and everything that happened with Tristan is less about 'cheating' and more like, it was just a random drunken hookup that meant nothing and was kissing at most and didn't lead to anything else and was the fault of stupid groupies trying to trap him, and everybody just needs to move on.
This can't be an easy decision on Khloé's part, but it seems like she's committed to having a family and trusts that her relationship is stronger than any cheating scandal that comes their way. Wish her and her new little one nothing but the best!