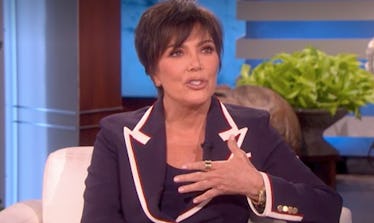 Kris Jenner Broke Her Silence On The Tristan Thompson Cheating Rumors & It's So Sad
Khloé Kardashian reportedly feels like she's living in "her own personal hell" amid the Tristan Thompson cheating rumors. Her family has been her rock throughout the whole ordeal, but Kim Kardashian has been the only one to publicly address the scandal. That is, until now. Kris Jenner's response to the Tristan Thompson cheating rumors is equal parts sad and supportive. In an interview with Ellen DeGeneres, Jenner opened up about the mess of a situation for the first time since reports of Thompson's cheating came about three weeks ago. "Khloé is amazing! I'm so proud of that kid," she said, trying to hold back tears. "I get choked up because she's such a good mom and honestly I get so emotional."
DeGeneres asked her how she felt about the cheating scandal, but Jenner's response — while initially tearful — ended up being more of a show of support for Kardashian. She didn't even say Thompson's name once. "I was in Cleveland last week," she said. "It was snowing, and she was all nestled in the nursery and the baby. She's just concentrating on that, being a mom, her baby and that's what her sisters are doing as well." Jenner continued,
She's so excited about motherhood and trying to get the nursing thing down, which is a little tricky. She's trying, she's really trying. She's figuring it out one day at a time, she's just the best mom already. That baby is so cute, little True.
DeGeneres pressed a little further to try and get Jenner to talk about Thompson and the cheating allegations, but Kris Jenner is a PR genius, so she knew how to address the topic without saying his name even once. Jenner responded, "I think we do what we always do and that's spring into action with love. We all hopped on a plane and flew to Cleveland because that's what we know to do."
On April 10, The Daily Mail published a video that seemingly showed Tristan Thompson getting close with a woman in a club in NYC. It's not clear if he's kissing the woman in the video because their faces are blocked, but that's what The Daily Mail claimed. TMZ subsequently published a video that appeared to show Thompson with three women in a hookah bar in D.C. from back in November of 2017. Khloé Kardashian gave birth to their daughter, True Thompson, just two days after the videos surfaced. Elite Daily reached out to Kardashian and Thompson's teams for comment on the videos at the time, but did not hear back by the time of publication. Kardashian's family, except for Kylie Jenner who was home with 3-month-old Stormi, was present for True's birth and were all seen arriving in Cleveland again on April 16 to help out their sister.
In response to DeGeneres' questions about the ordeal, Jenner said,
I'm there to support my kids no matter what happens. I just do the best I can, just like anybody else would for their family. There's a lot of us and we all get together and we do things together and we're a force to be reckoned with.
Jenner then revealed that she traveled to Cleveland on April 12 in anticipation of the baby's arrival, thinking she was getting there days early. (She had Kardashian's doctor and nurse practitioner on the plane with her.) But then, she said Kardashian apparently "gave birth within hours of us arriving." She detailed,
It was crazy. It was very exciting though at the same time. I think it was all sort of simultaneously happening. We knew that she was going to have the baby within a week, and I brought the doctor. And then we were calling from the plane. They said she just got her epidural — I didn't think we would make it. You can't write this stuff!
If I were Tristan Thompson, I would be freaking terrified that Kris Jenner refused to speak my name. That would legitimately send a shiver down my spine.