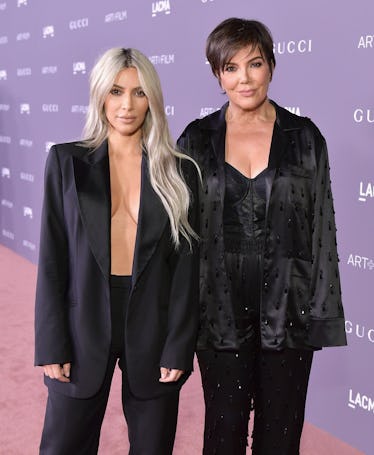 Kris Jenner Spoke About Kim Kardashian's Clemency Appeal & She's Such A Proud Mom
Neilson Barnard/Getty Images Entertainment/Getty Images
Whether it's spearheading a family empire or entertaining all of us on television, America's favorite momager certainly has a lot to be proud of. Well, Kris Jenner's comment about Kim Kardashian's appeal for Alice Johnson is just one more triumph to add to the list. Way to go ladies.
On June 8, Jenner attended the 2019 Moschino runway show in Los Angeles to celebrate the brand's upcoming resort collection. While appearing on the red carpet, Jenner spoke to reporters about her daughter, Kim Kardashian's, success in passing an appeal for 63-year old Alice Johnson, who was serving a life sentence for a first-time nonviolent drug offense. To no surprise, Jenner only had glowing remarks to say.
She said,
I'm just really proud of her because she decided that this is something that she wanted to do, she went after it, she worked on it for months and months, and was able to have this amazing result due to an amazing team of people who worked for this for a really long time, for years.
Word Kris. I have to admit I'm a bit impressed by the perseverance Kim Kardashian showed during the case. Perhaps she was underestimated at first, but this mogul totally proved she's a force to be reckoned with.
Kardashian had actively been working on the appeal case since October 2017, when she shared Mic's video of Johnson telling her story. Johnson worked in a multimillion-dollar cocaine ring in Memphis, TN and was eventually sentenced in 1996 to life in prison without parole despite it being her first offense. Now a 63-year-old grandmother, Johnson acknowledged her past wrongdoings, but told CNN in 2016 that she believed that if she had been convicted at that time, her outcome would have been different. Plus, Johnson maintained a spotless record throughout her time in prison.
Since hearing Johnson's story, Kardashian made it a point to work on her case and criminal justice reform. On May 30, Kardashian met with President Donald Trump in the White House to discuss clemency for Johnson. To commemorate their meeting, Trump took to Twitter to share a photo of him and Kardashian following their sit down.
Not only is this the most memeable photo of 2018 yet, but apparently their chat really made an impression on the president. On May 31, Kardashian spoke to Mic about her and Trump's meeting, and said that she thought he "really understood" the point behind the chat. Trump's senior adviser and son-in-law, Jared Kushner, was also present for the meeting as well as Kardashian's attorney Shawn Chapman Holley.
She said,
I went in, me and Shawn, to really talk to the president about Alice Johnson and really explain to him why she would be such a good person to grant clemency to. The president seems to have a passion for what everything that Jared has been trying to do, and that just makes me happy that that conversation is just moving forward.
Well, clearly that turned out to be the case. On June 6, just days after their meeting, Donald Trump granted Alice Marie Johnson clemency, and it's honestly so heartwarming. To celebrate, Kardashian took to Twitter to share the news with her fans.
After, Kardashian posted another tweet thanking Trump and Kushner for their decision.
According to CNN, this is the sixth act of clemency Donald Trump has granted since taking office. Honestly, hearing Kardashian describe her phone call with Johnson once the decision was made is one of the sweetest stories I've heard. Donald Trump's presidency might have stirred some controversy, but at least we can say one positive change came from it.
Is it just me or am I picturing this reaction when the Kardashian family heard the news?
Girl power, baby.