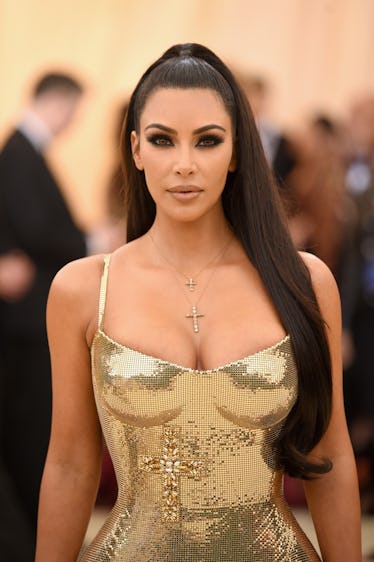 The Details Of Kim K & Alice Marie Johnson's Phone Call Will Make You So Emotional
Jason Kempin/Getty Images Entertainment/Getty Images
Today is a big day for Kim Kardashian and her new friend Alice Marie Johnson, who was just granted clemency by President Donald Trump. Kardashian took an invested interest in Johnson's situation and visited with the president personally to discuss her case. Johnson was serving a life sentence for a first-time, nonviolent drug offense, and on Wednesday, May 6, the Associated Press announced Trump commuted the sentence. According to Kardashian, she spoke on the phone with Johnson directly, and by the sounds of it, Kim Kardashian and Alice Marie Johnson's phone call was very emotional.
Kardashian first tweeted about Johnson in October 2017 when she shared Mic's video of Miss Johnson recounting her case. Johnson explained she is a 63-year-old woman who has served 21 years in jail for a first-time, nonviolent drug offense. She was sentenced to life without parole, meaning clemency was her only option. In the video, Johnson explains, "I had been in management for 10 years. When I lost my job I struggled financially. I couldn't find a job fast enough to take care of my family. I felt like a failure." She adds, "Out of desperation I made one of the worst decisions of my life to make some quick money. I became involved in a drug conspiracy."
Johnson worked in a multimillion-dollar cocaine drug ring in Memphis, Tennessee by facilitating communications. Mic reports she was sentenced to life without parole, plus 25 years. However, Johnson went on to have exemplary behavior behind bars and gained praise and support from both prison staff members and even members of Congress. In a 2016 opinion piece for CNN, Johnson said:
I want this part to be clear: I acknowledge that I have done wrong. I made the biggest mistake of my life to make ends meet and got involved with people selling drugs. This was a road I never dreamed of venturing down.
She added,
In 1996, I was given a death sentence without sitting on death row. I was convicted as a first-time nonviolent drug offender to life behind bars in federal prison. Since I went to prison, the laws governing my wrong-doing have changed. If I were convicted again today for the same crime, my life might look very different.
After having learned about her story, Kardashian made it her mission to help Johnson and her call for criminal justice reform. After forging a surprising relationship with Trump's son-in-law and White House senior adviser, Jared Kushner, Kardashian was able to have a one-on-one sit down with the president. After their meeting, Kardashian told Mic Trump "really spent the time to listen to our case that we were making for Alice. He really understood, and I am very hopeful that this will turn out really positively."
On June 6, 2018, Mic posted another tweet with the headline, "President Donald Trump grants clemency to Alice Marie Johnson after Kim Kardashian West Involvement." Kardashian wasted no time resharing the tweet, writing "BEST NEWS EVER!!!!" She followed that up with her own post describing what it was like telling Johnson the good news on the phone. Kardashian wrote: "The phone call I just had with Alice will forever be one of my best memories. Telling her for the first time and hearing her screams while crying together is a moment I will never forget."
Kardashian also said she is "so grateful to Donal Trump, Jared Kushner and everyone who has showed compassion" or contributed to Alice Johnson's case.
According to CNN, this is the sixth act of clemency Trump as granted since his inauguration.
Check out the entire Gen Why series and other videos on Facebook and the Bustle app across Apple TV, Roku, and Amazon Fire TV.