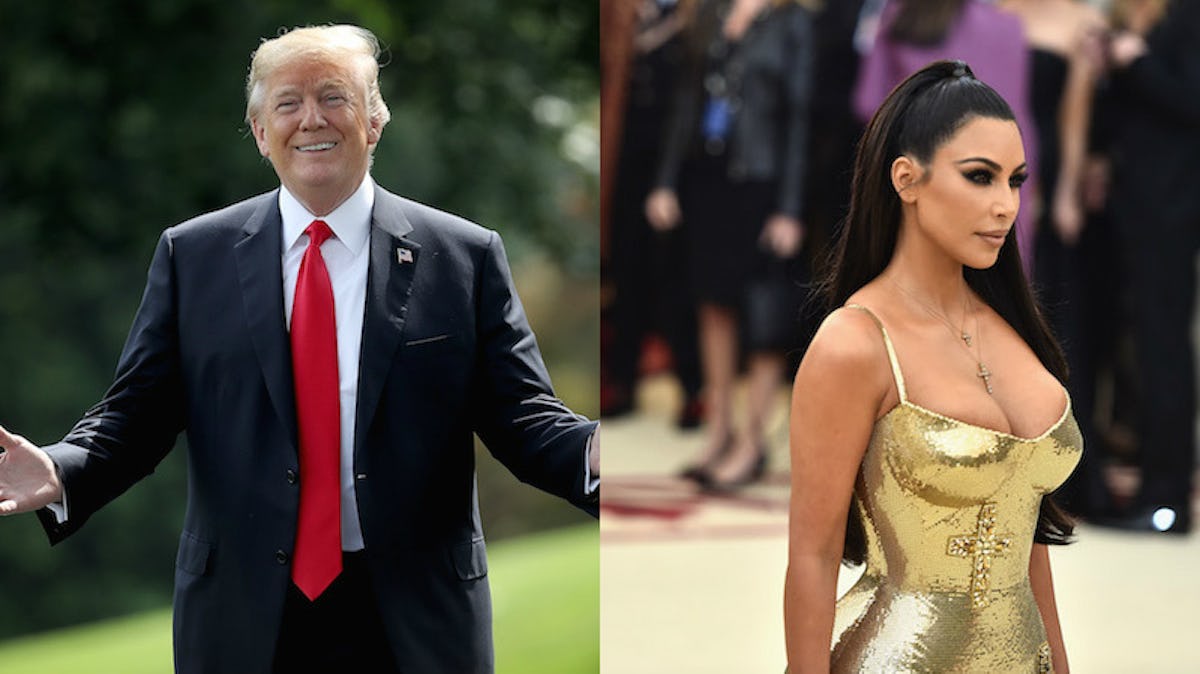 Kim Kardashian Talked About What It Was Like Meeting With Trump & TBH I'm Emotional
Win McNamee/Getty Images News/Getty Images & Theo Wargo/Getty Images Entertainment/Getty Images
On May 30, Kim Kardashian and President Donald Trump met in the White House to discuss prison reform. Yes, really. While some may scratch their heads at such a duo, Kim Kardashian said Donald Trump "really understood" their meeting that day. This year just keeps getting weirder and weirder.
On May 31, Kardashian sat down with Mic to give some insight her and Trump's White House meeting, where they discussed the case of Alice Marie Johnson, a 63-year old woman currently serving a life sentence for a first-time nonviolent drug offense. According to Kardashian, Trump really paid attention to Johnson's case and she's "hopeful" that change will be done under his presidency.
"I think that he really spent the time to listen to our case that we were making for Alice," Kardashian told Mic. "He really understood, and I am very hopeful that this will turn out really positively."
Even though that photo of her and Trump went viral across the web, it wasn't just Kardashian and Trump one on one. The selfie mogul was joined by her attorney Shawn Chapman Holley, with hopes to ask Trump for clemency for Johnson. In addition, White House senior adviser Jared Kushner also joined in for the conversation.
Kardashian said,
I went in, me and Shawn, to really talk to the president about Alice Johnson and really explain to him why she would be such a good person to grant clemency to. The president seems to have a passion for what everything that Jared has been trying to do, and that just makes me happy that that conversation is just moving forward.
To be honest, I'm a little surprised. Donald Trump hasn't exactly been shy about airing his disdain for drug dealers, and has even called for them to receive the death penalty. However, this could mean that necessary changes are on the way for prison reform, and I'm so for it.
Following Kardashian and Trump's meeting, Trump took to Twitter to share a completely iconic photo of him and the television celebrity in the Oval Office.
2018 is truly the most bizarre year of my life yet.
While it may seem odd that Kardashian and Trump are meeting, they have one very special person in common, and that's Kanye West himself. In April, Kanye West shook Twitter to its core when he went into a complete tirade, expressing his support for Donald Trump. Even though he eventually stated that he "doesn't 100 percent" agree with all of Trump's politics, that didn't stop West from comparing him and Trump's "dragon energy" and calling him his "brother."
West wrote,
You don't have to agree with trump but the mob can't make me not love him. We are both dragon energy. He is my brother. I love everyone. I don't agree with everything anyone does. That's what makes us individuals. And we have the right to independent thought.
I don't know about y'all, but I had to do a double take when I read that tweet. Strangely, this isn't the first time West and Trump have crossed paths. It made headlines when West and Trump met face to face way back in December 2016 to discuss "multicultural issues," according to West, but this unexpected bromance still shocks me. Following West's controversial Twitter rant, Kardashian took to Twitter to defend her husband's comments via Twitter by calling him a "free thinker."
Kardashian meeting with Trump is truly taking "stand by your man" to a whole new extreme.
Even though some may scoff at Kardashian and Trump's meeting, that doesn't diminish the fact that prison reform is an extremely important topic the United States needs to address. Good for Trump and Kardashian for actually sitting down and working to see that change is made.
We appreciate it Kim.