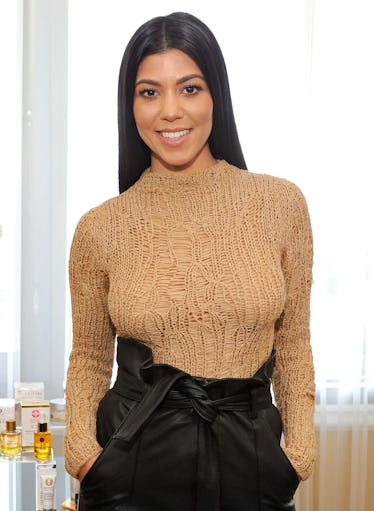 Kourtney Kardashian Is Officially Starting A "Kourt" Line & I Can't Contain Myself
John Sciulli/Getty Images Entertainment/Getty Images
There's so much going on in the Kardashian/Jenner world at the moment, I can't even fathom how they stay organized. In the midst of all the baby news, it's come to light that Kourtney Kardashian's "Kourt" beauty line is definitely a thing, and naturalistas everywhere are already reaching from their credit cards.
The Kardashian/Jenner clan is making its impact on the beauty world right now. Out of all of the Kardashians, I've personally been waiting patiently to see if Kourtney was going to funnel her clean, subtle aesthetic into a Kardashian makeup line, and people, the year has officially come. While Kim is launching new makeup products, and Kylie's latest palette may be a baby gender nod, Kourtney is trying to fly under the radar. With this family, nothing escapes the public eye, so when Kourtney applied to trademark the name "Kourt" for an upcoming brand, of course it was going to hit the interwebs.
While everyone is trying to decipher if Kylie is pregnant or not, Kourtney filed the paperwork to trademark "Kourt" under her company 2DIE4KOURT. In particular, she filed in the "Goods And Services" category, so honestly this could mean anything. I would be excited for a skincare line because Kourt's complexion is actually 2DIE4, but everyone thinks all signs lead to another Kardashian makeup line.
According to TMZ, the online gossip site has seen the documents and it's literally so clear that the intention is to start a business. The only think that's not clear is what type of product or products the Salad Kween is planning on launching. I think it would be so on brand for Kourtney to come out with an eco-friendly skincare line, because she's already partnered with the Manuka Doctor natural line.
Besides that shocking news, did anyone else know she had her own personal company called 2DIEFORKOURT?! Like when did that company become a thing? Everyone is so focused on the trademark, but I need to know how this name was created, when it was created, and is that going to be the name of an upcoming line? Seriously, the limit does not exist.
This whole trademark business came directly after Kourtney posted on Instagram stories showcasing different Kourt logos, right next to a Kylie Cosmetics pen and pad. Now this could just be a matter of coincidence, but I highly doubt that. The only person that tops intentionally hinting at secret launches is Queen Bey.
Since I'm kind of curious myself, I decided to do some sleuthing. I've been told that my talents would be beneficial in the C.I.A. and I totally was obsessed with becoming a detective like Nancy Drew when I was younger, but for now I'll keep it to finding out what's happening in the beauty and fashion space. After a look on the United States Patent and Trademark Office website, I Googled the trademark "Kourt". Sure enough the trademark was filed Jan. 12. under "Goods And Services," and it specifically says cosmetics.
Kardashian trademarking Kourt could really just be because she's releasing products under Kylie Cosmetics. In one episode of KUWTK, a fan (with superhuman vision) spotted what seemed to be either a tube of clear lip gloss, or just a mock packaging of a lip product, with Kourtney's name inscribed on the tube. This tube was next to other Kylie-branded tubes of lip products.
Whether Kardashian is releasing makeup or skincare, I know fans will be keeping up until they find out. Personally, I like totally need Kourtney and Millie Bobby Brown to link up so I can see them prepping salad, because what an iconic moment #okurrr.