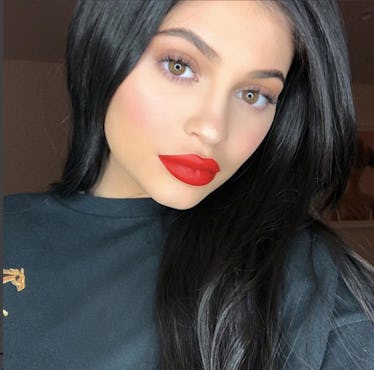 Fans Think Kylie Jenner's New Eyeshadow Palette Is A Clue About Her Baby's Gender
Kylie Jenner has the world on its toes about whether or not she is pregnant, and she is potentially releasing clues about the hopefully imminent birth with her newest Kylie Cosmetics product. The soon-to-be released eyeshadow palette has fans thinking it's a clue Kylie Jenner is having a boy.
2017 ended with rumors that Kim Kardashian West, Khloe Kardashian, and Kylie Jenner were all on the verge of producing offspring. 2018 has so far confirmed two of those pregnancies — Khloe Kardashian's pregnancy announcement nearly broke Instagram, and Kim Kardashian West's surrogate birthed the third West child on Jan. 16. Kylie Jenner is still staying mum on what may be the most widely speculated pregnancy in world history, and I am losing my sh*t.
While I am on the brink of going gray over Jenner's lack of confirmation, she is naturally still raking in the big bucks with her other baby, Kylie Cosmetics. Jenner's empire waits for no infant and the beauty mogul recently announced the release of Kylie Cosmetics' Blue Honey eyeshadow palette on her social media pages. Such an announcement would usually send fans into a tizzy over the makeup itself, but this release is overshadowed (pun intended) by the fan theories about Jenner's pregnancy. Here's the breakdown on the new eyeshadow palette and what it may really mean.
The Teaser
"Who's ready for a new 9 pan palette? 😏" Kylie Cosmetics first teased the new palette on Jan. 16, and while there was no release date yet announced, the teal background in the photo hinted at the palette's color direction. And maybe something else as well. Hmm...
Baby Blues
"Wow 😍🍯 Welcome Blue Honey.. Launching January 23rd at 3pm pst only on KylieCosmetics.com!" The brand gave the world a look at the shadows soon after the first post, and I need it yesterday. The nine pan-palette boasts four shimmery hues and five matte options. Most of the pigments are warm, earthy neutral tones, but the product gets its name from the beautiful blue-toned pans in the center.
The "blue" shades can look a bit more green from some angles, but Jenner named the alluring palette Blue Honey and I'm not here to argue.
"Heat Velvet single, launching Jan 23 #WarmVelvets ❤️ Photo: @jamienelson6," Kylie Cosmetics also 'grammed a photo of one of its liquid lipsticks and I am shook. If the Blue Honey eyeshadow palette wasn't enough of an internet bombshell, Jenner chose to use blue flowers in a photoshoot for her liquid lipstick. The girl has blue on the brain so how can I not take this to mean she is having a boy?
The body-con loving 20 year old swapped out her crop tops for an oversized blue shirt back in October, was it an early, hidden gender reveal? Ever since these pregnancy rumors started to swirl, Jenner's every move has been taken as a hint about the baby. The reality star is usually known for her revealing selfies and form-fitting clothing, but in the past few months she's opted for the oversized look.
To keep things even, and to keep torturing us all, Jenner's pink Christmas tree nearly sent the internet over the edge. The non-traditional tree had fans convinced that she was having a girl.
I don't know what to believe anymore!
Kardashian/Jenner super-fans have been theorizing about her unconfirmed baby's gender for months now, but it seems the boy baby theories are winning.
The Kardashian-Jenner's definitely like to keep things interesting.
Why no pink honey, Kylie?
Maybe Jenner will paint her baby's nursery in Blue Honey colors.
Here. For. This.
Probably true.
But actually, come on and just tell us!