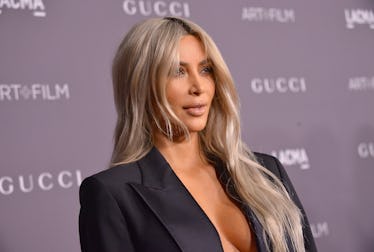 Kim Kardashian's New Mom Instagram Is So Heartwarming & So Perfect
Charley Gallay/Getty Images Entertainment/Getty Images
It's the year 2018, and we have been blessed with three — count 'em, three — offshoots of the Kardashian-West family tree. On January 16, Kim Kardashian and Kanye West announced that they had welcomed their third child via surrogate, and the world celebrated. And later that night, Kim Kardashian posted her first Instagram as a mom of three, and honestly, it's kind of perfect.
Because it's actually kind of a traditional — for Kim K — snapshot. The photo, which was posted on Instagram and Twitter, shows Kardashian walking across a parking lot wearing a monochromatic outfit, with a pair of tight white shorts and a cleavage-baring white tank top cropped just to meet the high waist of the bike shorts. Over everything she wears an oversized gray hooded sweatshirt (jacket?), and on her feet are a pair of peep-toe heels. Her hair is still long and gray-blonde as it has been for awhile. So while she looks great, it doesn't really look that different from her normal Instas. Until you look at the caption, which reads only, #momofthree.
As in, she looks exactly the same. You wouldn't be able to tell that anything has changed for her from the outside. But she knows — as of today, she might look the same, but she's a mom of three. Sob.
Kardashian revealed on the morning of January 16 that she and hubby Kanye West had welcomed their third little sproglet, a girl. She announced the news via her app, saying,
January 15, 2018, 12:47 a.m. 7 lbs 6 oz. Kanye and I are happy to announce the arrival of our healthy, beautiful baby girl. We are incredibly grateful to our surrogate who made our dreams come true with the greatest gift one could give and to our wonderful doctors and nurses for their special care. North and Saint are especially thrilled to welcome their baby sister. Love, Kim Kardashian West.
Of course, there's a whole bunch of news fans are still waiting on, including the new baby's name (listen, I'm definitely hoping for a "Star West," personally), or what the baby looks like. Although thanks to the statement we know that big sis North is apparently feeling "thrilled," though I'm wondering if she's come to to terms with the fact that it'll mean she has to share her toys. Well, we'll learn it all when we learn it all, and for now fans are just happy that the littlest Kardashian-West has made it safely into the world.
Because Kardashian was pretty open about the difficulties of pregnancy, both now and with her previous children.
Kardashian suffered from a dangerous condition called placenta accreta, where the placenta attaches too firmly to the wall of the uterus. That's why this time around, the couple chose to have their third child via surrogate — and Kardashian was super open about the ups and downs that accompanied that. In a November 2017 interview with Entertainment Tonight, Kardashian talked about the emotional struggle that went along with choosing surrogacy. She said,
You know, it is really different. Anyone that says or thinks it is just the easy way out is just completely wrong. I think it is so much harder to go through it this way, because you are not really in control. And, you know, obviously you pick someone that you completely trust and that you have a good bond and relationship with, but it is still ... knowing that I was able to carry my first two babies and not, you know, my baby now, it's hard for me. So, it's definitely a harder experience than I anticipated just in the control area.
Hey, they say nothing worth having comes easy. And what you have now is a beautiful new member of the Kardashian-West clan. Congrats to the happy family!