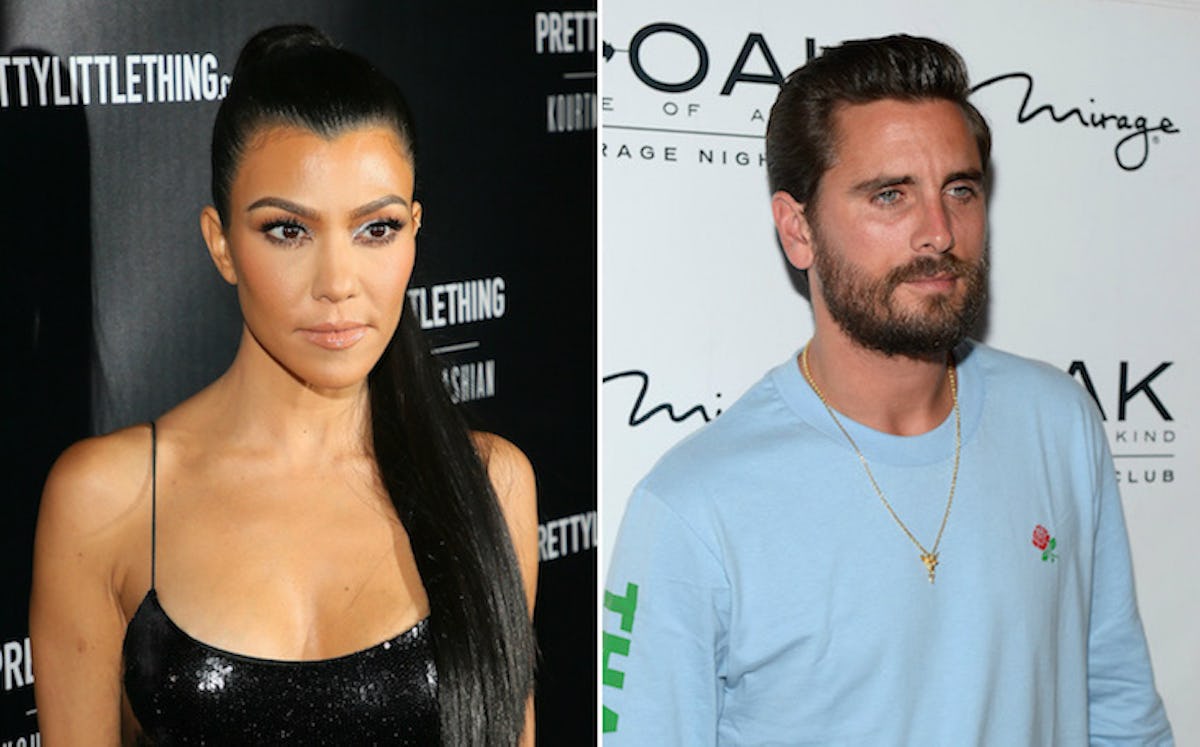 Kourtney K Low-Key Shaded Scott Disick While Playing "Never Have I Ever" With Her Fam
JB Lacroix / Contributor & Bryan Steffy / Stringer / Getty
I know you all think this is the year of Kylie and Khloé, but you're wrong. It's the year of Kourtney motherf*cking Kardashian. Homegirl has been living her very best life since she finally, finally, finally shed her relationship with Scott Disick. Fans watched Kourt literally come back to life this past year with a new attitude (and new boyfriend), and they are loving it. If you've had any doubt about this new era, consider Kourtney Kardashian's answers to "Never Have I Ever," in which she low-key shades Disick.
Girl, welcome back.
Just when I thought the universe couldn't possibly handle any more Kardashian anything, two (maybe three) of the family members went and had new babies, and Kourtney exploded back into the public eye with a killer bod and gorgeous boyfriend. We've watched Disick flounder this past Keeping Up With The Kardashians season as he realized his ex-girlfriend really moved on. But I gotta be honest – I'm on her side, Scott.
Everyone has noticed Kourt's new, happy-go-lucky attitude, and I'm so pumped to see she finally made her relationship with Younes Bendjima Instagram official in 2018. Now, there's even further proof she's seriously over her ex.
As part of a family campaign series for Calvin Klein, Kourtney and her sisters stripped down to their white CK skivvies to pose for an epic photo shoot. The sisters have been sharing images from the shoot all over social media this week, complete with a few fierce poses from Kourtney.
In one pic, she's straight up holding a blanket over her chest like Lady Godiva's cool cousin, and in another she is giving us face in an all-denim ensemble. All of her sisters are strewn across the floor around her in a pile of Kardashian/Jenner glory.
As part of the campaign, Kim shared a short video featuring herself and her sisters playing "Never Have I Ever" on set. For the most part, it's pretty PG stuff. Kendall's never dyed her hair. Kim's never gotten a tattoo. Kylie's never eaten a rattlesnake... which is... whatever. Things are taken up a notch when Kendall says, "Never have I ever been married." She then sheepishly looks to her sisters Kim and Khloé (who have been married) and whispers, "Sorry."
Immediately, Kourtney gleefully shouts, "Same!" She and her unmarried sisters, Kendall and Kylie, then bump fists while a giant goofy smile is plastered across Kourtney's face.
Sorry, Scott. But it's not for lack of trying.
Over the years, Disick has both seriously and jokingly asked Kourtney to marry him. While she's definitely light years away from that idea, the oldest sister has taken great care to find a way to co-parent with the notorious party boy. It's always been really important to Kourtney that she and Disick find a way to peacefully raise their kids, despite the fact they're no longer involved romantically.
Back in 2016, Kourtney told YOU magazine she actually found co-parenting to be easy. She said,
Scott and I communicate all the time. You have to keep discussing what's going on because as the children grow older, the rules need to be renegotiated.
Part of that plan involves still doing things as a family. For now, Disick is still a part of the KUWTK series and Bendjima is not, but that doesn't mean things can't change.
I'm just so happy to see this new attitude from Kourtney and wish her and her Calvin Klein underwear all the best in their new life chapter.
Check out the entire Gen Why series and other videos on Facebook and the Bustle app across Apple TV, Roku, and Amazon Fire TV.