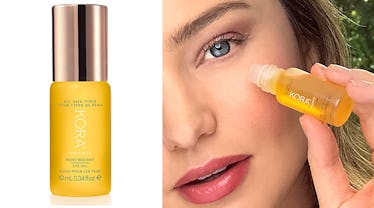 This Hydrating Eye Oil Is Flying Off Shelves & There's One Major Reason Why
I am an eye cream fanatic. Give me a small jar of the stuff and you're guaranteed to see a smile on my face and no bags under my eyes. So when I started to hear passionate whispers amongst my beauty-loving friends about the power of Kora Organics' Eye Oil, I knew I had to investigate. Can an oil properly hydrate your under-eye area and get rid of dark circles? Will it penetrate deep within the thin under-eye skin even though it is an oil (gasp)? Was it created using ingredients from the fountain of youth that Miranda Kerr, the founder of Kora Organics, seems to have unearthed? Only the reviews would tell.
As a proud skincare addict, I thought I knew all the rules of product composition and application. Generally, when you apply skincare, you want to work from the thinnest consistency to thickest consistency. That way, your serums and more active products with tinier molecules can penetrate deep within you skin without being blocked by the bigger molecules of moisturizers and oils. Eye creams generally follow serums because they're more lightweight than facial moisturizers. The thin yet creamy consistency allows the product to penetrate through the thin, tissue paper-like skin underneath your eye. Your under eye needs to be treated with a little extra TLC, or it may rip, tear, and get irritated very easily.
Up to this point, I thought oils (with their heavier consistencies and bigger molecules) were too weighty for the delicate under-eye area. However, the Kora Organics Noni Radiant Eye Oil ($38; sephora) is busting open every eye cream myth I've ever heard.
Kora Organics Noni Radiant Eye Oil, $38, Sephora
I was afraid that oil would clog the pores under my eye and lead to milia (which is not fun, trust me). However, the Noni Radiant Eye Oil is actually thin enough to work its magic. Even those with super sensitive skin left rave reviews, noting the lack of under eye irritation when using this magical product.
The mysterious Noni oil is actually comprised of numerous different organic oils that treat a plethora of varying under-eye concerns. The Kahai oil in the formula contains a natural retinol, which helps to soften the appearance of fine lines and wrinkles by boosting the skin's regeneration cycle. The coffee seed oil is like a shot of espresso straight to your under-eye bags. The natural caffeine improves the circulation underneath your eye area, reducing the puffiness that may accompany late nights and hangovers. Tomato fruits brighten the skin underneath the eye and help to reduce redness and sensitivity (sign me up). Finally, marine bamboo extract helps to improve the elasticity of your skin. You know how bamboo bends with the wind, but never breaks? Don't you want that kind of durability for your sensitive under-eye skin?
Even though the formula is glam and gorgeous in itself, it's the application method itself that's causing this product to fly off shelves. Each bottle of Noni Radiant Eye Oil contains a rose quartz ball roller which is meant to "pass along the vibration of love to you." That's right. You no longer have to travel to your nearest New Wave store to replenish your supply of healing crystals. You can simply apply your eye oil and experience spiritual awakening all at the same time. The ancient Egyptians believed that rose quartz had anti-aging properties, so perhaps there really is something to it.
In addition to passing along vibrations of love, the rose quartz roller does have some tangible effects as well. The cooling applicator will assist in the de-puffing process and distribute the perfect amount of product along your orbital bone.
So if your under eye needs a little TLC (in more ways than one), the Kora Organics Noni Radiant Eye Oil has got you covered. You're sure to feel hydrated and zen AF in no time, all thanks to your new skincare fave.