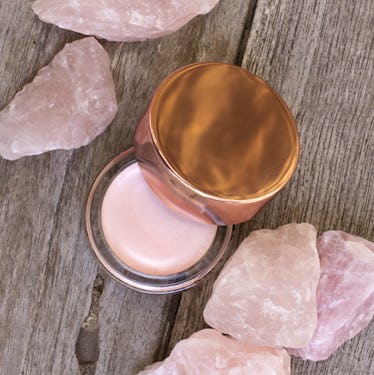 This Rose Quartz Highlighter By Miranda Kerr's Beauty Line Will Make You Shine Like A Crystal
If you're in search of a dose of positive energy and dash of love, all you need to do is stroke your cheekbones with a highlighter brush. One of your favorite models has made it her mission to not only help you look good, but feel healthy and empowered in the process. So, in order to incorporate those positive vibes into your beauty routine, the rose quartz highlighter by Miranda Kerr is definitely a must-buy.
The model's passion project, Kora Organics, made its way to the U.S. this year by way of Sephora and Sephora.com. The line focuses on organic items that help your skin stay healthy and replenished, as its one of the most important parts of our body. To add to that sentiment, Kerr has introduced the Rose Quartz Luminizer for $28. Yes, it's a product that helps you achieve a certain look, but it also is meant to do a little something extra with its application.
The luminizer is actually infused with rose quartz, Kerr's favorite crystal. The light pink shimmer gives your skin a soft glow and encourages love and heals negativity. How is that for a powerful beauty product? According to Teen Vogue, Kerr actually carries a heart-shaped piece of rose quartz in her brassiere — so it's a good thing she decided to make the item a bit more accessible to her fans.
And so far, the fans cannot get enough of the item. According to one review on the Kora site, "This luminizer is awesome! I love it! Please Miranda and Kora team, DO NOT get rid of this product. It's my holy grail! Make this a permanent item!"
Who wouldn't want a little glow and some good vibes? It's definitely a win-win situation. You've gotten our attention, Ms. Kerr.
If this isn't enough to get you to the nearest Sephora, the powerful crystal also has some steamy benefits. It's meant to attract all types of love: comfort, friendship, and sex. Depending on what you're looking for, this crystal just might be the right one to keep handy.
But rose quartz isn't the only way to harness your wellness routine. Other crystals are believed to help with particular emotions and desires. For example, Tanzanite is intended to create spiritual awareness, so if you are searching for a BFF, this could be your guide to finding a partner in crime. Let's say you're looking to shake things up with a hot fling, then Ruby is your go-to (just make sure you're ready for the sexiness that might come along with it).
The good news is that your beauty routine isn't the only aspect of your life that can promote positivity. You can add crystals to your home décor to achieve a sense of peace — take for example Amethyst. It promotes balance and peace, eliminates impatience, and looks terrific on your coffee table. Seeing as it eliminates impatience, I have a feeling I'll need to grab a bunch and distribute the findings throughout my family. Not only does it sound beneficial, but it sounds very much a necessity for a bunch of impatient Italians.
So if you're looking for new ways to create a more positive lifestyle, perhaps crystals are a good method for you — whether that includes your makeup routine or apartment decorations. There's always a reason to embrace those vibes... and if all else fails, you know your space (and your face) will look good.
Looks like we'll catch you on the Sephora line.
Check out the entire Gen Why series and other videos on Facebook and the Bustle app across Apple TV, Roku, and Amazon Fire TV.