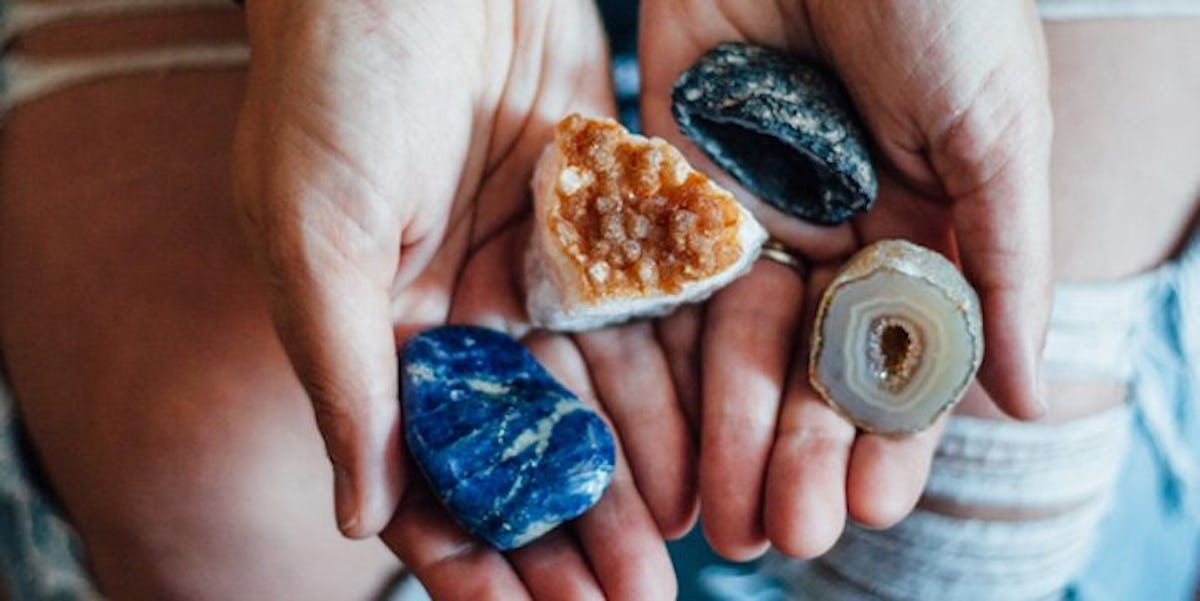 7 Crystals To Attract Love, Depending On What Type Of Guy You're Looking For
Kara Riley
Happy winter!
It's cold out there, and if you're single and the power goes out, you may have to zip your naked self into a sleeping bag with a cutie FOR SURVIVAL.
So, why not use all the help you can get while looking for a potential bae?
You can use the ancient magical properties of crystals to embody the essence of what you're seeking in an ideal partner.
Knowing what you're looking for is a good place to start, but make sure you're open to anything and everything positive while wearing the crystal of your choosing.
To begin, focus on what you want, and be a little more proactive in your search than just mindlessly swiping on Tinder. (Hint: Leave your room and hit the bar.)
So, here are the seven different crystals you should use depending on what type of guy you're looking for:
1. The casual cuff: Tiger's eye
Tiger's eye is a fabulous stone for helping balance the emotions and cultivate insight.
If you're looking for something low-maintenance, but you're still interested in a genuine and trusting connection, this gem can assist in perceiving truth and awareness.
Remember that time you hooked up with someone, and they turned out the be a real Norman Bates? Tiger's eye will help you discern warning signs early.
2. A bonafide lover: Aquamarine
Looking for a real life, gainfully employed partner you could bring home to Mom and Dad? Use aquamarine to open up your psychic energies and put your best self out there.
Aquamarine calms and focuses energy, while getting rid of fears and imbuing the wearer with a sense of responsibility.
Aquamarine also strengthens your personal power, and it ensures you're truly meeting your best match by bulking self-confidence.
If you're like me — the type who usually reveals her true self five months in — wear aquamarine to correct this tendency.
3. Your soulmate: Soulmate crystal (Use with caution.)
If you're serious about securing the love of your damn life, a soulmate crystal may be worth the investment.
These crystals have two terminations at the same end, all coming from the same base.
They will help you attract the person you're meant to be with or the person who is meant to teach you the greatest life lessons.
4. A steamy fling: Ruby
If you're up for a sexscapade like "Fifty Shades of Grey," but actually hot, try wearing ruby.
Ruby is known for making the wearer uninhibited (also great for karaoke during sober January).
Ruby helps give a sense of courage, stimulates intuition and facilitates spiritual love, which makes it the perfect stone for a lady in the streets and a freak in the sheets.
5. An intellectual romance: Lapis lazuli
Looking to bond over a love of fair trade coffee and Edith Wharton's New York? (Just me?)
Lapis lazuli increases mental clarity and stimulates creativity.
Lapis lazuli also facilitates communications with the higher self, which can help meeting a partner who also knows what they want in a relationship.
6. The BFF: Tanzanite
Tanzanite increases spiritual awareness, which makes it the perfect jewel for finding that special someone to do bar trivia and scavenger hunts with.
Tanzanite also balances the emotions and opens intuition. Use this gem to discern a flirtatious friendship with the potential for more.
7. Horniness: Rose quartz
It's been a while, and you need to feel the sweet pressure of another body crushing the life out of you.
No shame! Strap on a rose quartz, the cure-all of love crystals, and get out there, baby!
Rose quartz is known to attract all types of love: comfort, friendship and sex. In turn, rose quartz also activates your own love energy, making you irresistible.
With this group of crystals, there's no way you can't attract the type of mate you're looking for.
Get ready to spend cuffing season with whomever — doing whatever — you want.