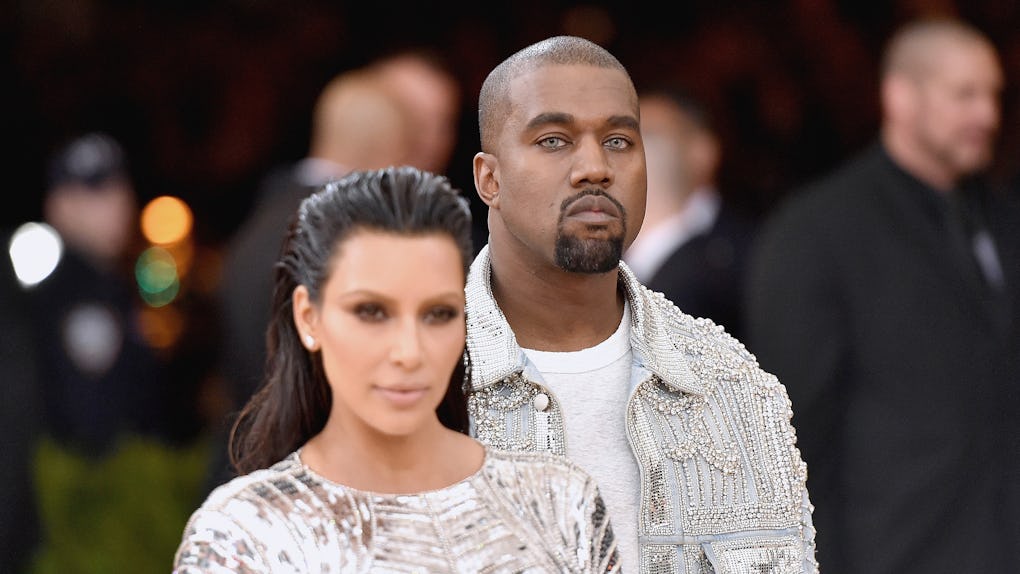 Mike Coppola/Getty Images Entertainment/Getty Images
Kim Kardashian's New Year's Kiss Snapchat With Kanye Is So, So Adorable
As the countdown begins on New Year's Eve, you want to find yourself right next to the one person you want to kiss at midnight. It's a tradition to ring in the new year with the one you love, so it just makes sense that Kanye West and Kim Kardashian should share a midnight kiss as the clock strikes 12. Kimye both spent NYE together with friends and family, and Kim Kardashian's New Year's kiss Snapchat with Kanye was so adorable.
Of course, she got the whole thing on video. As the party starts counting down to midnight, she slowly pans around, landing on a shot of her with Kanye in the background. There's a little pause as Kanye takes his time to kiss his wife on the lips, which causes Kim to exclaim, "I'm like, don't leave me hanging." Don't worry Kim, Kanye would never. We saw the pause, but we can only expect it was him just taking his sweet time and savoring the moment. Kayne would never not kiss his wife, especially when the power couple is expecting their third child via surrogate this year. The couple already has two children, daughter North and son Saint.
What Can Kimye Look Forward To In 2018?
Both Kim Kardashian and Kanye West have a lot to look forward to in the new year. As mentioned before, they're expecting a daughter and have been getting things ready for her arrival. They've even let their other daughter North help pick out the new baby's name. Though, don't expect to find out what it is anytime soon. Kim is being very hush hush about everything, and we won't find out until the baby is born.
As far as other babies being born in the Kardashian family this year, we are too excited about Kim's sister, Khloe Kardashian, expecting her first child with boyfriend, Tristan Thompson. They are both too cute, and we cannot wait to meet their little one. However, we've exhausted ourselves waiting for a pregnancy announcement from Kim's other sister, Kylie Jenner. We can't wait anymore. By the time she finally confirms the pregnancy rumors, we will all have moved on from caring.
Probably not, but maybe if we act like we don't care, she'll finally reveal it.
Kim Kardashian's New Year's Resolutions
Kim announced on her website and app that her New Year's resolution this year is "to be on [her] phone less and be more in the moment." That's pretty much what we all say each year, but we're addicts, and how will Kim Kardashian live without her social media? She's already kind of failing by posting the Snapchat video of her on NYE, but we'll let it slide because we wanted to see that cute Kimye midnight kiss. We'll just see how this resolution goes for Kim this year.
She also has big fitness goals this year, and said, "My 2018 fitness goal is I plan to train really hard and be more consistent — 5-6 days a week weight training with Melissa!" Hey Kim, if you ever need a gym buddy, just give us a call. We'd be happy to tag along, and try to keep up.
As far as her growing business with KKW Beauty and her KKW Fragrance line, Kim has said, "The KKW Beauty product I'm most excited about for 2018: Lipsticks!!!" She can test out the long-lasting effects of her new lipsticks by kissing Kanye this year. Just as long as he doesn't leave her hanging at all.
There's so much in store for Kimye this year, and we can't wait to see what 2018 will bring them.