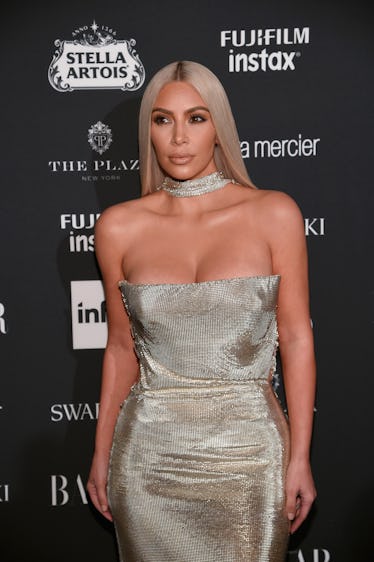 This Tiny Detail In Kim K's Instagram Could Prove Khloé K Is Actually Pregnant
Dimitrios Kambouris/Getty Images Entertainment/Getty Images
The Kardashian family has been surrounded by pregnancy rumors for literally MONTHS. Some have fizzled out, while other baby news (aka Kim's) has been confirmed. However, there are still a couple of question marks (and many, many unanswered rumors) in the Kardashian family — mostly surrounding Khloé Kardashian. There are a lot of hints that are making fans think Khloé's reported pregnancy could actually be true. Another arrow pointing to "yes" came from a recently posted picture on Instagram. Kim Kardashian's Instagram with Khloé could be a major clue that Khloé's alleged pregnancy is still definitely a thing.
UPDATE: On Dec. 20, Khloe Kardashian confirmed that she is expecting a baby with Tristan Thompson in an Instagram post.
EARLIER: Kim posted a picture of herself, Khloé, and Kourtney standing together on a balcony in San Francisco, California. The caption said, "Take San Fran... ?" Our three favorite sisters are standing in all black ensembles. Kourtney is rocking her signature slicked-back, high ponytail. Honestly, I know Kim has the flashy platinum blonde locks right now, but Khloé is actually so much blonder than I remember her being.
The one detail that has fans freaking out is the way the ladies are standing. Kim and Kourtney are standing in front of Khloé, which, according to fans, could be strategically covering a baby bump. This comes as a bit of surprise, because fitspo KoKo is never afraid of the camera. Kim and Kourtney blocking Khloé basically from the neck down are having fans ask serious questions.
OK, the photo is suspect AF. I feel like when it comes to the Kardashians — nothing is by accident. The biggest clue pointing to Khloé's reported pregnancy being true is the fact that no one has denied. Keep in mind, no one has confirmed it either, but how hard is it to just say, "False alarm, everyone chill" via Twitter? NOT HARD AT ALL. Literally no member of the fam has denied Khloé's reported pregnancy — not Tristan Thompson (the baby's reported father), Kris Jenner, Kim K, Kylie Jenner, or Khloé herself.
Technically, Khloé did weigh in on pregnancy rumors, but she really was not helpful at all.
Khloé has been busy promoting the new season of her Good American clothing line on social media. The collection is size-inclusive and super cute, but, of course, the pregnancy reports started to overshadow it.
She posted a black and white photo of herself in an all-black, faux leather ensemble. Comments on Instagram came pouring in about Kardashian's body (not OK either way) like, "BUMP," "Am I seeing a bump???," "She's pregnant I can tell from the shape of her stomach," and "Can see your little bump. Love the outfit."
Khloé fired back and shot down all of the bump discussions by pointing out the shape of the top, writing: "This is a peplum shirt. It flairs out at the bottom. It's just the way the shirt is designed. In some of the next pictures coming up from the SAME shoot, I'm in a crop top. Showing a lot of skin... "
BOOM. However, she still didn't confirm or deny the rumors — she just shut down the conversation about her body. Hmmm.... THANKS FOR NOTHING, KOKO.
I hope Khloé gives a definite confirmation soon. Just a thumbs up or down emoji would do. Although the reported pregnancy has not been confirmed, how amazing would Khloé and Tristan Thompson's baby be? This is the new celebrity baby we all need right now.
Khloé has been very open about wanting kids of her own someday. During an episode of Keeping Up With The Kardashians she said,
I'm a really fun aunt, so I hope I'm going to be a fun mom! I like to have fun and be silly and not take myself too seriously with the kids, so I hope that will translate when I actually have my own.
Personally, I think she would be the best mom ever. She can totally adopt me if she wants. That's not weird, right?
I guess we'll just have to wait and see if the reported pregnancy news ever gets directly confirmed. Until then, I'll just keep scrolling through her socials like I always do. Sigh.
Check out the entire Gen Why series and other videos on Facebook and the Bustle app across Apple TV, Roku, and Amazon Fire TV.