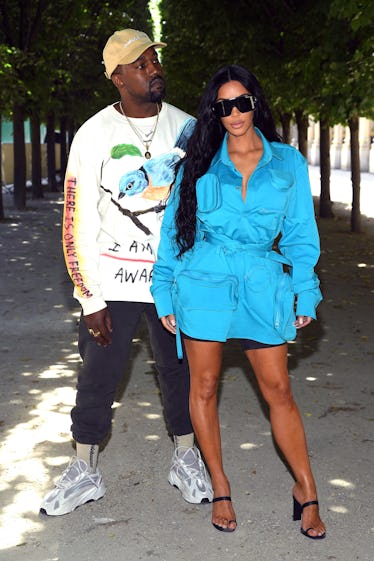 Kim K Just Admitted Kanye West Knows Nothing About Politics: "I've Educated Him Recently"
Pascal Le Segretain/Getty Images Entertainment/Getty Images
Kim Kardashian finally said what we're all thinking: Kanye West doesn't know politics. In a panel discussion about criminal justice reform with Van Jones on Nov. 14, the makeup mogul talked about her husband's meeting with President Trump and the aftermath that followed, and Kim Kardashian's comments about Kanye West not knowing politics make it pretty clear how she feels about her husband's recent political statements. I, for one, feel bad that Kardashian is having to do the heavy lifting of fixing the PR mess West has made for them.
Kardashian spoke with CNN's Van Jones at the Variety Criminal Justice Reform Summit on Nov. 14. She discussed her part in successfully getting President Trump to grant Alice Marie Johnson clemency, and she was pretty blunt about her husband's meeting with Trump in October.
"I feel like he's very misunderstood and the worst communicator," she said. While West vocalized his support for Trump on more than one occasion, prompting backlash online, Kardashian told Jones that it's Trump as a person West likes and supports, and that he doesn't educate himself on his politics. Cool.
"When we talk about it, we have very similar politics," Kardashian revealed. "He's very not political, actually, he just happens to like Donald Trump's personality, but doesn't know about the politics." So, does West just not understand that most people who are critical of Trump don't separate his politics from his personality?
When West made his pro-Trump rant at the end of the season premiere of Saturday Night Live (the speech wasn't aired because the episode was out of air time, but people posted videos of the rant on social media), he said people backstage were trying to bully him over his beliefs and telling him not to wear his MAGA hat on-air. Did he think he was being bullied just for liking Trump's personality? Did he seriously think no one was thinking about the politics of it all? Dude, what?
Kardashian told Jones that she's had to teach her husband about Trump's politics and explain why so many people have been critical of his meetings with the president.
"I've educated him recently," Kardashian said. "I think it gets really misconstrued. He will always say he was friendly with him before, and he's the same person and friendly with him now."
So, let me get this straight. Kanye West has said in the past that he wants to run for president, that he didn't vote in the 2016 election but would've voted for Trump if he had, and implied he saw Trump as a "father figure", but he wasn't paying attention to any of the political turmoil Trump has caused? Fans of Kanye West can say whatever they want about the rapper, but that just doesn't add up to me.
A source previously told People that Kardashian has been the one person to make West see reason when it comes to politics. "Kim is really good at telling him what's up without being disrespectful," the source told the outlet following West's October meeting in the Oval Office. "She's really the only person he listens to completely."
"After the last episode," they continued, "I know that Kim took him away and they had some very serious talks where she told him what she thought. She's not afraid to share her opinion, and he's willing to listen." The source also noted that Kardashian's voice of reason in comparison to West's political comments keeps him grounded. "She has such a powerful influence on him, and not in a bad way," they said.
Conservative commentator Candace Owens is the co-creator of a site/movement called "Blexit," which encourages black Americans to leave the Democratic party and support conservative beliefs instead. When the site launched, Owens said West had helped design the logo for the website that was being printed onto "Blexit" merchandise.
West refuted that claim in a tweet that said, "I introduced Candace to the person who made the logo and they didn't want their name on it so she used mine," he tweeted. "I never wanted any association with Blexit. I have nothing to do with it." Elite Daily reached out to Owens' team about West's tweets, but did not hear back by the time of publication.
Before tweeting about Owens, West had posted a series of tweets outlining what he said were his true political beliefs. He said he supports criminal justice reform, common sense gun laws, and supporting those who are seeking asylum in the United States. His last tweet officially distanced himself from politics, saying he felt he had been used to spread a message he didn't endorse. It's not clear to whom/what he's referencing in the tweet.
"My eyes are now wide open and now realize I've been used to spread messages I don't believe in," he tweeted. "I am distancing myself from politics and completely focusing on being creative !!!" Were you used to spread a message you don't believe in, or were you just blatantly ignoring peoples' politics just because you liked their personalities, and were surprised to learn that a lot of peoples' politics heavily influence their personalities?
Kim, I'm so sorry you have to deal with this. Kanye, all I have to say is this: