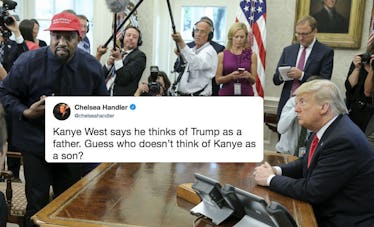 Kanye West Said He Sees Trump As A Father Figure, So Fans Are Really Concerned At This Point
Oliver Contreras - Pool/Getty Images
Kanye West has fans concerned after his visit to the Oval Office to have a working lunch with President Donald Trump on Thursday, Oct. 11. In a nearly 10-minute monologue, the rapper spoke about his apparent misdiagnosed bipolar disorder and how wearing a Make America Great Again hat has made him feel like "Superman," but it's Kanye West's comments about seeing Trump as a father figure that have many fans incredibly worried. Elite Daily reached out to West's team for clarification on his remarks, but did not hear back by the time of publication.
The "Lift Yourself" rapper spoke at length about the U.S. economy and manufacturing, gang violence, and the prison system, but it was his words regarding his bipolar diagnosis, as well as his unwavering support surrounding Trump's presidency that are concerning fans most.
"I was diagnosed with bipolar disorder and connected with a neuropsychologist," West said. "He looked at my brain. I will go ahead and drop bombs for us. 98 percent on IQ test, 75 percent of all human beings. Eight numbers backwards. I'm going to work on that one… He said that I actually wasn't bipolar. I had sleep deprivation that can cause dementia 10 to 20 years from now where I wouldn't remember my son's name."
West continued, alluding to the fact that he supported Trump's presidency over Hillary Clinton's because Trump seemed to resemble some sort of father figure for him.
"I didn't have a lot of male energy in my home," he said. "I love Hillary and I love everyone. The campaign, I'm with her, just didn't make me feel as a guy that didn't get to see my dad all the time, like a guy that can play catch with his son. It was something about when I put this hat on," he said while pointing to the "MAGA" hat he was sporting. "It made me feel like Superman. That's my favorite superhero. You make a superhero cape as a guy who looks up to you."
In regards to wearing his "MAGA" hat, West also said in his speech that "They tried to scare me, my friends to not wear this hat, but this hat, it gives me power in a way."
Check the video below out and see for yourself:
After seeing West's monologue, many fans have taken to social media to address the strange connection West made about growing up without a male father figure, seemingly implying that he looks to Trump with that kind of adoration:
After West finished his speech, the president announced that they would be meeting behind closed doors for lunch. West then reportedly ran behind the desk to hug Trump, saying, "I love this guy right here."
"That's from the heart," Trump responded, adding, "Special guy."
This isn't the first time that West has shown support for President Trump, and, most recently, West appeared on Saturday Night Live sporting Trump's "Make America Great Again" hat on Saturday, Sept. 29.
The meeting between West and Trump has certainly been an interesting one. At this point, it looks like we'll just have to wait and see if the rapper chooses to comment on his monologue with the president.