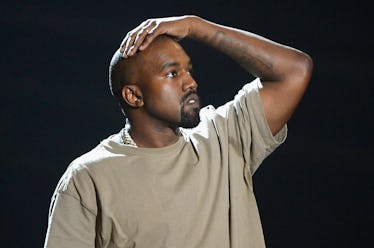 Kanye West Talking About Why He Supports Trump Is, Uh, Something Else
Kevork Djansezian/Getty Images Entertainment/Getty Images
Since Kanye West went full-on MAGA a few months ago, many people have been searching for an explanation as to what fueled his support for the controversial president. Is it political? Was it to promote his recently-released album ye? Does he think Trump cares about black people more than President George W. Bush? While fans thought they might get some clarity when he sat down for an interview with Jimmy Kimmel on Aug. 9, Kanye West's comments about Donald Trump on Jimmy Kimmel Live really just add more confusion to the situation.
West — who sparked outrage back in April when he called President Donald Trump his "brother" and shared a picture of himself wearing a "Make America Great Again" hat — told Kimmel in their chat that his support of the president was more of a message of self-empowerment than it was a political statement.
"As a musician, an African-American, a guy out in Hollywood… everyone around me tried to pick my candidate for me, and told me every time I said that I like Trump that I couldn't say it out loud or my career would be over or I'd get kicked out of the black community," he explained. "Because blacks, we're supposed to have a monolithic thought, we can only be Democrats."
He continued:
It took me a year and a half to have the confidence to stand up and put on the [MAGA] hat, no matter what the consequences were. What it represented to me was not about policies, because I'm not a politician like that, but it represented overcoming fear, and doing what [I] felt, no matter what anyone said, and saying, 'You can't bully me. Liberals can't bully me, news can't bully me, the hip-hop community can't bully me.'
OK, so his support of Trump isn't about politics, even though he's supporting a politician? I get wanting to make a statement and all, but in that case, he could've done a song with his archenemy Taylor Swift and called it a day...
Kimmel (perhaps just as perplexed as many of us) went on to grill West about his endorsement of Trump, asking the 41-year-old rapper: "You so famously said, 'George Bush doesn't care about black people.' It makes me wonder, what makes you think Donald Trump does, or [cares about] any people at all?"
West was speechless, mulling over the question for more than a few seconds, with Kimmel cutting for a break before the rapper had the chance to respond. After the break, however, the TV host changed the subject without West having given an answer.
West has stirred controversy for his ties and support of Trump since December 2016, when he was spotted meeting with the president-elect for a meeting at the Trump Tower. The criticism only mounted in April 2018, when West took to Twitter to express his admiration of the president through a series of tweets.
In one particular message, West wrote:
You don't have to agree with trump but the mob can't make me not love him. We are both dragon energy. He is my brother. I love everyone. I don't agree with everything anyone does. That's what makes us individuals. And we have the right to independent thought.
People were in uproar over the tweets, with many fans following up by expressing their worries and frustrations in a barrage of tweets. The backlash was even so bad that West's wife, Kim Kardashian, had to step in and try to diffuse the situation.
Even so, West seemed pretty steadfast in his declarations, as he continued on to share his opinions about the president. But perhaps he'll take his support of Trump a little more seriously after this Kimmel interview. Who knows.