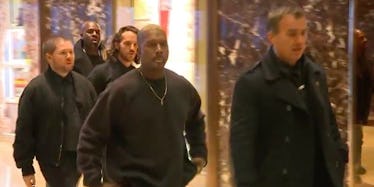 Kanye Was Seen Entering Trump Tower And Everyone's Making The Same Joke
C-SPAN
Kanye West was photographed walking into Trump Tower, allegedly for a meeting of some sort, on Tuesday morning in NYC.
CNN politics reporter Tal Kopan tweeted out a picture of Kanye and his entourage walking into Trump's Fifth Avenue abode.
Video of Kanye's entrance to the building was also posted on YouTube and Twitter, where reporters can be heard questioning Kanye on whether he is there for a meeting with the 2016 president-elect.
It is not yet confirmed whether the 39-year-old rapper was indeed at Trump Tower for a meeting with President-elect Donald Trump.
However, some people are speculating Kanye may be meeting with Trump to set up a performance for Trump's inauguration on January 20, 2017.
So like... what the heck is going on with Kanye, am I right?
I mean, I know he was just hospitalized and is going through a rough time right now and all, but, Kanye. No. No no no no no.
At times like these, there's really only one thing to do, I feel: sit back and laugh at the ridiculous parody our country has become.
That's probably why everyone is joking about Kanye being Trump's next cabinet pick — just laughing through the pain.
I can't believe we've reached a point where I am hoping beyond hope Kanye is going to perform at the inauguration.
A month ago, right before the rapper canceled his tour and spent time in the hospital for "exhaustion," Kanye told the audience at his concert in San Jose he "would have voted for Trump."
He said,
I told y'all I didn't vote. But I would have voted for Trump.
Hours before the meeting in Trump Tower, Kanye was spotted with his new blonde hair out in New York City in the SoHo area.
He did not look happy.
Perhaps he was contemplating about how he was about to sell his soul to Donald Trump? That'd make me pretty unhappy, too.
Well, 2016 just keeps on delivering!
Citations: Kanye West spotted entering Trump Tower (The Hill)