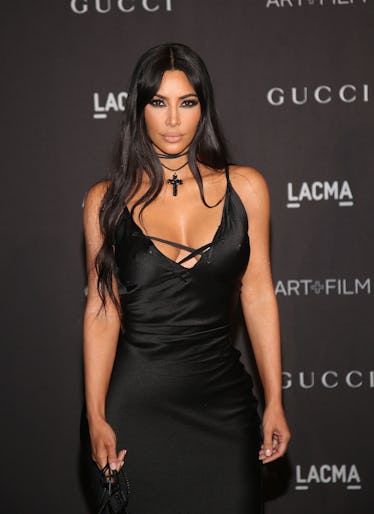 Kim K Just Revealed She Was On Drugs When She Filmed Her Infamous Sex Tape
Jesse Grant/Getty Images Entertainment/Getty Images
It takes a lot to surprise me. And I mean a lot. But our girl Kim Kardashian has me over here with my jaw on the damn floor after confessing something pretty shocking on the most recent episode of Keeping Up With the Kardashians. If you somehow missed it, do yourself a huge favor and stop whatever you're doing and check it out, because Kim Kardashian's comments about doing drugs will blow your mind.
So, here's what went down. On KUWTK, Kim reminisced about her recent high school reunion with sister Kendall Jenner and Kourtney's ex, Scott Disick. Kim was trying to explain to the pair that she wasn't always as toned down as she is today.
"Well, you were fun, right?" At one time, like, you were wild, right?" Scott asked Kim, who replied with an absolute, "Yeah!"
"It's so weird to me, I can't like picture you being a wild child," Scott replied.
Then Kendall chimed in, smiling and saying, "I've heard stories about you."
Scott agreed that he too has "heard some stuff," telling Kim that he heard that Kim "went to, like, Disney and you were all high or something." Scandalous!
This was news to Kendall, who said, "I didn't know you, like, got high," and then Kim oh-so-casually delivers the line of a lifetime to her sister and Scott.
"I got married on ecstasy," Kim admitted, referring to her first marriage to music producer Damon Thomas. "I did ecstasy once and I got married, I did it again and I made a sex tape. Like everything bad would happen."
UM, I'm sorry, but what did Kim Kardashian just admit?!
But she didn't stop there, and handed out even more details about the ordeal.
"You were high on ecstasy when you did the sex tape?!" Scott asks, clearly shocked about the admission.
Kim responds rather calmly, saying, "Absolutely! Everyone knows it, like my jaw was shaking the whole time."
Say what you want, but this is probably the most revelatory conversation that KUWTK has ever seen. Kim K not only confessed that she was on ecstasy while she went through with her first marriage, but she also admitted that she was high while filming her sex tape, too. Holy sh*tballs is right.
After this not-so-little confession, Kim went on to tell Kendall and Scott about how she lived it up in Ibiza with Paris Hilton way back when, officially proving to everyone that Kim was certainly a wild child once. (Remember that time when Kim and Paris were BFF's? What a time to be alive.)
"Kendall honestly has, like, no clue," Kim said. "I definitely went through a wild phase I would say in like, my late teens. I'm not like that anymore."
Well, there you have it, folks. Obvious proof that Kim Kardashian is a changed woman. I'm not going to lie, though: I kind of love that she has this somewhat sordid past that she dishes out like it's seriously no big deal.
What a classic Kim move. Gotta respect it.