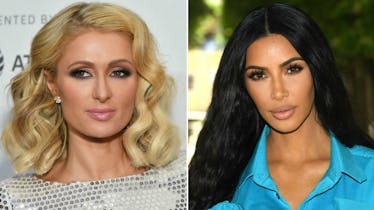 The Timeline Of Kim Kardashian & Paris Hilton's Feud Proves These Ladies Are Mature AF
Mike Coppola/Getty Images Entertainment/Getty Images | Pascal Le Segretain/Getty Images Entertainment/Getty Images
Celebrity relationships and friendships are a rare breed. These famous faces have their lives played out in front of the masses, whether it's the good, the bad, or the straight-up shady. In Elite Daily's new series, It's Complicated, we're highlighting the biggest celebrity "feuds" that took over Hollywood and dominated our Sunday brunches for weeks on end. We'll take a deep dive into the lives and social media feeds of our favorite stars and dissect what happened in front of the camera, what went down behind the scenes, and everything you might have missed in between.
Kim Kardashian and Paris Hilton are two of the biggest reality stars on the planet. While Hilton was a pioneer of sorts in the world of reality television, Kardashian has taken the reins and created an empire that probably far exceeds anything Hilton could've imagined. And that, of course, can breed some trouble. Although Kardashian and Hilton were besties for quite a while, their friendship got rocky over the years. And this timeline of Kim Kardashian and Paris Hilton's feud will show you why all things involving these two ladies are, well, complicated. But, in the end, they're both class acts through and through.
So, where did it all begin? It goes way back, like, 15 years into the past:
Early 2000s - The Simple Life
Remember when the Hiltons were everywhere? When The Simple Life, starring Paris Hilton and Nicole Richie, was your go-to show? Well, although you may not remember, that was actually everyone's first introduction to Kim Kardashian.
Yep, she was frequently seen on the show, organizing Hilton's closet and making sure her style was always new and fresh. Naturally, lots of people thought Kardashian was Hilton's assistant, but Kardashian denied this on Watch What Happens Live with Andy Cohen back in May 2017, saying:
I would work with Paris, and I would love to organize and clean out their closets and get rid of all their stuff and sell it on eBay and then shop for them, shop for her. That was my job. I loved it. But people will say 'assistant.' They always have it wrong.
Being referred to as Hilton's assistant rather than her fashion-forward best friend obviously struck Kardashian the wrong way. But that didn't stop her from sticking by Hilton's side through thick and thin.
Over the next few years, Kardashian and Hilton were attached at the hip. They wined and dined together, partied through the night together, and even spent vacation time together.
But all that fun gal-pal stuff went downhill by 2008.
2008 - Hilton Disses Kardashian
During an interview on the Chet Buchanan and the Morning Zoo Show, Hilton did what no one would expect her to: she insulted Kardashian in the worst way possible. So, what did she say that was so awful?
I would not want Kim's butt — it's gross … It reminds me of cottage cheese inside a big trash bag.
Yep, that's pretty awful and totally uncalled for. Even though Hilton made the nasty comment, she later got in touch with Kardashian to apologize. She told InTouch at the time:
I felt really bad afterward, so I contacted Kim and apologized. It was a silly thing to say. Kim's hot!
But the feud didn't end there. Not by a long shot.
2011 - Kardashian and Hilton Drift Apart
In 2011, Kardashian dropped a bomb on fans everywhere by telling Harper's Bazaar that she and Hilton had drifted apart:
We don't really talk. As I always say, everyone comes into your life for a reason, a season, or a lifetime. And she was in my life for a long time ... There comes a point in life where you just grow apart and you realize you're not as similar as you thought. And I never run into her anywhere. Isn't that so weird?
Around the same time, Hilton appeared on Good Morning America and was not too happy about how condescending the interviewer was to her. She was especially irked when he suggested that her time in the spotlight was over because Kardashian had taken over.
So, it's very likely that Kardashian's rising star power had a major impact on their friendship.
2012 to Present - Kim & Paris Put the Beef Behind Them
Thankfully, the two reality stars took their friendship breakup and made something positive out of it. Kardashian created a reality empire and Hilton started a music career (yep, she's a DJ). And they both have nothing but wonderful things to say about each other now.
In April 2017, Hilton told Evening Standard that she loves Kardashian:
I love Kim. Basically, we've been friends since we were born. I'm so proud of her, and everything she's achieved. Her family is beautiful, the little boy and girl, and I'm really happy for her.
And as recently as February 2018, Kardashian sent Hilton an exclusive chocolate heart box to promote her new KKW fragrance:
Needless to say, this feud seems like it's run its course and Kardashian and Hilton are back on good terms.