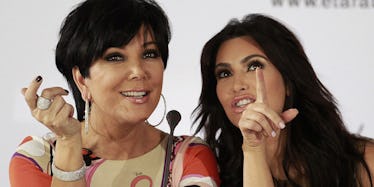 Did Kris Jenner Have Something To Do With Kim Kardashian's Leaked Sex Tape?
REUTERS/Jumana El Heloueh
Conspiracy theorists, gather 'round: I have a big, fat, juicy slab of sordid possibilities for you to sink your fangs into, ya paranoid freaks.
Was Kris Jenner behind daughter Kim Kardashian West's 2007 sex tape leak?  Journalist Ian Halperin certainly thinks so.
In a new tell-all titled "Kardashian Dynasty: The Controversial Rise of America's Royal Family," Halperin reportedly alleges Kardashian West, aided by Jenner, signed a contract with Vivid Entertainment to release the tape starring herself and ex Ray J.
According to New York Post, a source told the author,
It was Kris who engineered the deal behind the scenes and was responsible for the tape seeing the light of day.
When Halperin posed as an interested party looking to sell a celebrity sex tape to Vivid, a spokesperson reportedly told him,
When it comes to… selling a sex tape, both parties need to sign off.
Hmmm. Intriguing. Curiously, Kardashian West reportedly threatened to sue Vivid and settled for $5 million but was unable to stop the release of the tape.
We may never learn the true story of who orchestrated the release of "Kim Kardashian: Superstar."
For all we know, George W. Bush was behind the whole thing in an effort to take some attention off himself for a second.
The one fact that rings eternally true and transparent is this tape is responsible for the media's hyper-saturation of all things Kimmy K & Co., for better or worse.
Citations: Was Kim Kardashian's sex tape planned all along? A new tell all book seems to think so (Metro)