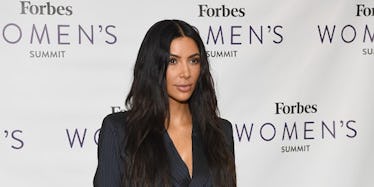 Kim K Visiting Her Old Beverly Hills House Will Take 'KUWTK' Fans Right Back To 2010
ANGELA WEISS/Getty Images
For all of the Keeping Up with the Kardashians fans out there, this is serious breaking news. Kim Kardashian took a tour down memory lane in her old Beverly Hills home on July 26 and it brought back major nostalgia for us all. Fans were able to see the house where Kim Kardashian lived and where it all started for the superstar and her uber-famous family! We feel all of those feels, you guys.
The reality star/mega-millionaire (to name a few of her many titles) shared countless memories with her fans on Snapchat about her old Bev Hills home. "Can anyone guess where I'm at? You guys, this is so nostalgic," she said while walking down her former famous hallway.
Although the home isn't owned by the Kardashian family any longer, the new homeowner hasn't changed much at all. The current homeowner, a devoted E! fan, preserved the house and made very few modifications. "They kept all my old furniture, every last piece of mine. Everything is exactly the same," Kim K said.  How cool is that?
The star even commented on her giant shoe collection from her previous closet. "Do you guys remember cleaning out all of my shoes and they all ended up here?" she said, referring to her infamous closet clean-up episode.
Khloé Kardashian, who also toured the house, led Kim to her old bedroom and literally NOTHING HAS CHANGED. Creepy... But also pretty dang cool. Honestly, I wouldn't change a thing either. How could you? "This is my same exact bedding, you guys. And my home phones. The same place!" the Kardashian sister screamed. The brown-eyed beauty then remembered dropping her nephew Mason in the bathroom. Oh, the good times we all shared.
After many reminiscent Snapchat videos, Kim ended the video with a touching message, "Bye to my gorgeous old house where all of my memories were made. Where a lot of my Keeping up memories with my sisters were made."
Kim K, you seriously brought back some major memories and you made us majorly happy. Thanks for the tour!