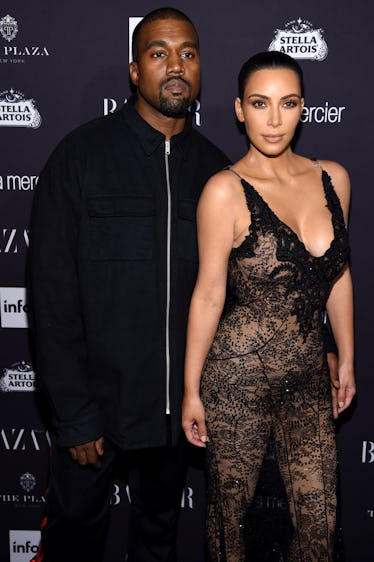 Kim K Explained Why She'll Always Defend Kanye West Despite His Controversial Comments
Dimitrios Kambouris/Getty Images Entertainment/Getty Images
It's a surprise to literally no one that Kanye West has been turning a lot of heads lately. His recent behavior has made many fans question the rapper — between his pro-Trump speech on Saturday Night Live, and his meeting with Trump himself at the White House, along with the many (many) interesting thoughts he's expressed on social media, it's clear that not everybody is exactly loving what West is putting out into the universe. But in a new interview, we get to hear Kim Kardashian's comments about defending Kanye West, and honestly, it's nice to see that she's supportive of her husband, no matter what seemingly controversial thing he says or does. Elite Daily reached out to West's team previously for clarification regarding his pro-Trump speech on SNL and at the White House, but did not hear back by the time of publication.
The Keeping Up With the Kardashians star appeared on an episode of The Messy Truth with Van Jones on Saturday, Oct. 27, and opened up about her thoughts on her husband's opinions and political views. She also tried to convey West's thought process on the subjects he talks about on social media to show his fans what's really going on in his head at the time.
"Look, I always say this: It takes him about four years to write a song to explain, to communicate what he wants to say. So when he tweets something in two seconds — what's going on in his mind, and what he thinks and what he's trying to say — he might not be the best communicator, but he has the best heart and I know what he means," Kardashian told Jones.
She continued,
I believe in him, and I believe that his message of what the hat represents to him is maybe different [than] what it represents to other people. He is very mindful about that... he doesn't maybe express that. But what it means to him is something totally different, and I trust in him that he will explain that in his own way.
Kardashian also had a few things to say to the fans who criticized her for not trying to stop West's rant on Saturday Night Live. "What did you want me to do? Get up on stage and sing? Like what did you want me to do?" she said.
"I listen to him," Kardashian continued. "Afterwards, I might let him know that I can help him communicate that a little bit better and, you know, we should work on that. And he's like 'Oh yeah but I already tweeted it' and I'm like 'Well, what you tweeted isn't what you just said to me over the phone.' But sometimes people don't have the long time to really hear him out and see what he has to say."
Ultimately, Kardashian said that West is "so strong and that he knows what he means and the people around him know what he means," adding that "the people around him let him know that what he said might not be what he means and try to help him work on it. But I know his heart, so we are working on expressing that."
And if you thought that Kim K didn't know that West sometimes has unpopular opinions, then think again. She revealed that she understands that, no matter what, West will speak his mind freely, despite what fans might have to say.
"He will always do what he believes, whether it is the popular thing or not," adding that West is "not political" and just "wants to fight for free thought."
I'm not going to lie, I was somewhat agreeing with Kim until that last bit. Kanye West being "not political" seems like a bit of a stretch to me.
But I digress.
She continues, explaining that she and West are there for each other, no matter what. "We've been through a lot together, you know," she stated earlier in the episode. She then candidly reveals some of the issues they've faced head-on as a couple. She said,
I've known him forever. He's put himself up against the world for me when everyone told him 'You cannot date a girl with a sex tape. You cannot date a reality show girl. It's going to ruin your career.' Everyone told him that…And to me, he was like 'You're not going to tell me what to do. I'll let you know it's going to be OK.' He was always that strength for me. So I'll always love and appreciate him for always standing up for me.
She later added, "Anyone who has ever doubted us or me, he has always been there to hold my hand and lift me up higher and give me the confidence. So I'll always do the same for him."
Alright. Overall, that was a pretty good argument on West's behalf, and I give Kim Kardashian a lot of credit for being so honest about the issues the couple has to tackle.
Check out the video below and see for yourself:
While we might not always agree with Kanye West and his beliefs, it's nice to know that, no matter what, he always has Kim in his corner.