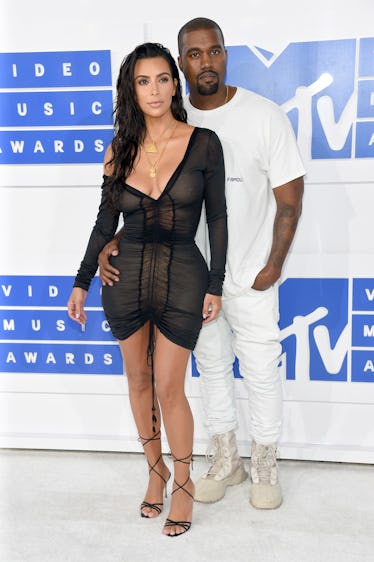 Kim Kardashian's Reaction To Kanye West's 'SNL' Rant Wasn't What You'd Expect
Jamie McCarthy/Getty Images Entertainment/Getty Images
The world may be looking at Kanye West with a more critical eye after his rant on Saturday Night Live, but his wife gaze isn't as scrutinizing. In a new report from People magazine, a source close to the couple says that Kim Kardashian's reaction to Kanye West's SNL rant wasn't as strong as the audience's. And that's definitely raising some eyebrows.
According to an Oct. 1 report from People, Kardashian stood by and watched as West ranted about politics, Donald Trump, and the media.
"While Kanye talked Kim just stood in the back and watched. The kids were there, too," the source said. Elite Daily reached out to Kardashian and West's teams on the report but did not hear back by the time of publication.
The source also theorized that because the president has treated Kardashian and West relatively well that there wasn't much about West's speech to be uncomfortable about.
"She didn't seem like anything, she was just watching," the source continued. "Trump's been good to them so it seems they do really love him, even Kim. They all hung out for a bit afterward."
While wearing a red Make America Great Again hat, West took to the stage to perform some music from his new album Yandhi. Eventually he segued into a rant that started with him singing, "I wanna cry right now. Black man in America, you're supposed to keep what you feel inside right now. And the liberals bully you and tell you what you can and cannot wear, where you and they can't not stare. And they look at me and say, 'It's not fair. How the hell did you get here?'"
Then his speech took a turn.
"Actually, blacks weren't always Democrats," he continued. "It's like a plan they did to take the fathers out the homes and promote welfare. Does anybody know about that? That's the Democratic plan."
Later, he continued with some words about his support for President Trump.
"It's so many times that I talk to a white person about this, and they say, 'How could you like Trump? He's racist,'" West said. "Well if I was concerned about racism, I would have moved out of America a long time ago. We don't just make our decisions off of racism. Imma break it down to you right now: If someone inspires me and I connect with them, I don't have to believe in all they policies."
Then he expanded on what he was feeling with the following rant:
You see, they laughin' at me. They screamin' at me. They bullied me. They bullied me backstage. They said, "don't go out there with that hat on.' They bullied me backstage. They bully me and then they say I'm in the Sunken Place. You want to see the Sunken Place? Okay, Imma listen to y'all now. Or Imma put my Superman cape on and this means you can't tell me what to do. Follow your heart and stop following your mind. That's how we're controlled; that's how we're programmed. If you want the world to move forward, try love. Thank y'all for giving me this platform. I know some of y'all don't agree, but y'all be going at that man's neck a lot and I don't think it's actually that helpful. I think the universe has balance. 90 percent of news are liberal. 90 percent of TV, L.A., New York, writers, rappers, musicians… so it's easy to make it seem like it's so so so one-sided.
Elite Daily reached out to West's team for comment on his speech but did not hear back by the time of publication.
So, while West was going off about all kinds of things totally unrelated to his music or SNL, Kardashian was apparently hanging backstage with her kids, calm as a cucumber. And that kind of makes you think this is all par for the course where West is concerned. No matter what your personal politics are, you can't blame West for using his platform to try and get people to think outside the box. A for effort, Kanye.