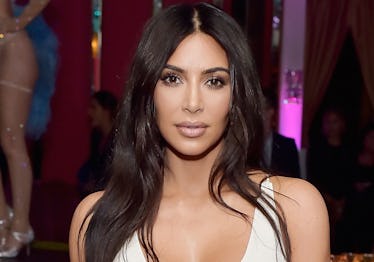 Kim Kardashian Revealed Another Name She Considered For Chicago & It's Emotional
Kim Kardashian and Kanye West welcomed baby Chicago West on Jan. 15, 2018. Born via surrogate, Kimye revealed the name of their third baby when they announced her birth on Jan. 16, 2018. While lots of fans thought Chicago was a cute name and a fitting tribute to Kanye West's hometown, some fans were hoping they would name the baby girl Donda after West's mother, who died in 2007. As it turns out, Kim Kardashian almost named Chicago West Donda, so that Donda West fan theory almost became a reality.
In an interview with Ellen DeGeneres airing Monday, April 30, Kim Kardashian detailed the story behind how they came up with the name Chicago, and it's honestly kind of confusing. In a November 2017 interview with DeGeneres, Kardashian said she was all about the one-syllable names. "I do like different name[s] — but short, easy to spell, one syllable. That's kind of my vibe," she said. Chicago clearly isn't a one-syllable name (although they call her Chi for short), so DeGeneres called her out for that and she said, "It kind of messes with me, I'm not going to lie. I really liked the one syllable thing." She revealed the other names they were considering (other than Donda), saying, "We were going to name her Jo because my grandma is Mary Jo. We were also going to go with Grace. But then it was Chicago."
DeGeneres pressed a little further, asking if it was West's idea to name her after his home city. "I don't even know how the name... well, obviously because he's from Chicago," Kardashian said. "But that is a place that made him and a place that he remembers his family from." And that's when Donda came up. "He really wanted his mother's name," she said, "and I love that name too, but I just wasn't sure. It's so much to live up to." So Chicago it was!
Kardashian said she loves the name Chicago because it's unique. "I just felt Chicago was cool and different."
Then DeGeneres steered the conversation back to a fact Kardashian had mentioned earlier: Kanye West was too distracted playing Connect Four to watch the birth of this daughter. Yeah... Kardashian detailed the story of Chicago's delivery and revealed that she and Kourtney Kardashian were in the delivery room (Kourtney was acting as her "support system," according to Kardashian) while West was in their connecting room playing Connect Four with his buddies.
"We had a connecting room," Kardashian said, "and Kanye was in there playing Connect Four with his friends, and not really paying attention. I was like, 'Kourtney, I need you to be here with me.'" You know who else could've been there with her as a support system? Her husband. But Kardashian didn't seem too phased by West's lack of attention, so I guess I'll just brush this off as well... for now.
Kardashian said the birth experience with Chicago was overall very positive and that she has become close friends with her surrogate. "The moment [the surrogate] was getting the epidural, I was like, 'Thank god this is not me,'" she joked, adding that the whole experience "was so easy."
She said that she had a lot of fears throughout the surrogacy process about whether or not she'd have an easy time connecting with the baby or even if the baby somehow wouldn't look like her, but all of those worries were put to the side when Chicago finally arrived. "The second she came out, any fear that I had of 'Will I not have this connection,' 'Will she not look like me,' all of that goes out the door. And instantly, she's ours." Too bad Kanye missed it!