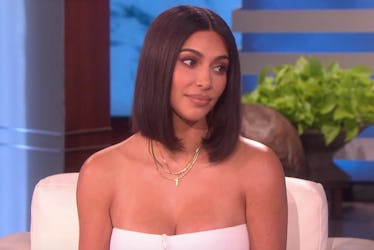 Kim Kardashian Opened Up About How She Chose The Name Chicago & It's Confusing AF
YouTube
When Kim Kardashian and Kanye West announced they named their third baby Chicago (Chi for short), the world was pretty split on how it felt about the name. Some felt it was a fitting tribute to West's hometown while others thought it was just another weird celebrity name. Some were confused because Chicago doesn't go along with the name trend Kardashian set with North and Saint, and the story of how Kim Kardashian chose Chicago's name isn't any less confusing.
In an interview with Ellen DeGeneres airing Monday, April 30, Kardashian admitted she didn't fully stick to the name trend she loved when naming her daughter, and she says the choice trips her up sometimes, too. You see, before her surrogate gave birth in January, Kardashian had told DeGeneres that she liked one syllable names. North and Saint fit that bill, but Chicago has to be shortened down to Chi if that name is to follow along with the trend. DeGeneres jokingly called out Kardashian for not choosing a shorter name, and she responded, "It kind of messes with me, I'm not going to lie. I really liked the one syllable thing." DeGeneres then asked if it was Kanye West who chose the name since he's the one from Chicago, and Kardashian said, "I don't even know. Obviously because he's from Chicago and that is a place that made him."
But then, she started revealing the other names they were considering before settling on Chicago. "We were going to name her 'Jo,'" she said, "because my grandma is Mary Jo. We were also going to go with Grace. But then it was Chicago."
I don't know about you guys, but I can't imagine that baby's name being Jo or Grace West. The names just seem too... normal?
Don't get me wrong, Jo and Grace are adorable names, but let's not pretend the Kardashians are famous for giving their kids names like Jo and Grace.
Fans had a theory that Kardashian and West were going to name the baby Donda, after West's mother who died in 2007.
And Kardashian actually confirmed to DeGeneres that Donda was one of the names they were seriously considering. "He really wanted his mother's name," she said, "and I love that name too, but I just wasn't sure. It's so much to live up to." She added, "I [also] just felt Chicago was cool and different." While it would've been heartwarming for the baby to have been named after West's late mother, the name Chicago still pays tribute to her since that's where West was born and raised.
Kardashian also dished about how North and Saint are responding to baby Chicago's presence in their house, and it turns out North is much nicer to her sister than she is to her brother. Siblings, man. "She's better than she was with Saint," Kardashian explained. She continued,
[But] there was a shocking moment yesterday. She literally had a can of popcorn and was like, 'Saint, do you want some?' And I was like 'What!?' You gotta understand, she does not share with Saint, she does not hardly talk to Saint, so that was such a big moment in my household.
Saint, as a middle child myself, I feel your pain, buddy.
When it comes to the surrogate who gave birth to Chicago, Kardashian says they have become close friends.
Kardashian told DeGeneres that surrogacy was "the best experience," and that she was really grateful it wasn't her going through the labor pains this time around. "The moment [the surrogate] was getting the epidural, I was like, 'Thank god this is not me.' It was so easy." Kardashian had two high-risk pregnancies with North and Saint and reportedly had really rough childbirth experiences, so the relief she felt having a surrogate is understandable.
As for her surrogate, Kardashian said, "She is so amazing. I've become good friends with her," adding, "She's so sweet and her family is great. It was such an easy experience." But perhaps the most interesting detail of this entire story is that Kanye West was literally playing Connect Four while his daughter was being born. Yes, you read that correctly. While Kardashian was in the delivery room with their surrogate, West was playing board games. "We had a connecting room," Kardashian said, "and Kanye was in there playing Connect Four with his friends, and not really paying attention." Kardashian laughed and said it's "his favorite game, he's the best at it," but like, dude. Come on.