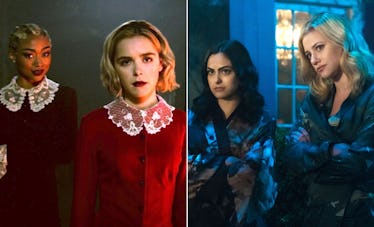 Fans Are Convinced The 'Sabrina' Holiday Special Will Include 'Riverdale' Characters
Netflix, CW
Chilling Adventures of Sabrina ended its first season without giving fans the major crossover with its sister show Riverdale that everyone was looking for, but now that Netflix has announced its spooky new series is getting a holiday special next month, fans are thinking that Sabrina may have been saving a crossover present for the holidays. And Kiernan Shipka's Sabrina holiday special post on Instagram has Riverdale fans even more excited for the possibility of a Christmas crossover.
Rumors of a potential crossover between Riverdale and Chilling Adventures of Sabrina have been bubbling up since Sabrina was announced last year. Since both shows come from the same source material (Archie Comics) and both shows are helmed by the same showrunner (Roberto Aguirre-Sacasa), a crossover felt imminent. But while Season 1 of Sabrina did include a few references to the town of Riverdale and one quick cameo, fans are still waiting for a major crossover to happen. Aguirre-Sacasa has said that he wants a crossover to happen as much as the rest of us, and even floated the idea of a standalone movie bringing the two worlds together. But some fans think the crossover is coming much sooner.
After news broke that Chilling Adventures of Sabrina will premiere a special, standalone holiday episode on Dec. 14, fans began noticing some very interesting phrases in how the special was being described. First, there is the official Netflix synopsis, which teases that the episode will involve "guests and visitors — both welcome and unwelcome":
The Church of Night, like all covens, celebrates the Winter Solstice - the longest night of the year - when families gather around the Yule Fire to sing pagan carols and tell ghost stories. But the holidays are also a time for guests and visitors - both welcome and unwelcome - you never know what might come down the chimney...
Then, Kiernan Shipka posted that the holiday episode contains "an extra extra super special secret surprise in it that I think everyone is going to freak out about." Hmm, what would possibly cause fans freak out more than a Riverdale crossover?
Roberto Aguirre-Sacasa also teased the new Chilling Adventures of Sabrina special by posting an Archie Comics cover that featured Archie. Sabrina Spellman actually interacts with Archie Andrews, Betty Cooper, Jughead Jones, and Veronica Lodge quite a bit in the Archie Comics, so maybe we are finally about to see the characters all come together for the holidays.
As for how a Sabrina/Riverdale holiday crossover might work, it could get tricky considering all of the disparate storylines that would have to come together. We left off on Sabrina with the young witch turning her back on the mortal world to fully embrace her witch side, and on Riverdale, Veronica is running a speakeasy, Archie is locked up, and Betty and Jughead are caught up in a cultish murder mystery. Hopefully the holidays can bring some sort of peace and normalcy to all these tortured teens.
The Chilling Adventures of Sabrina's holiday special, A Midwinter's Tale, will premiere on Netflix on Dec. 14.