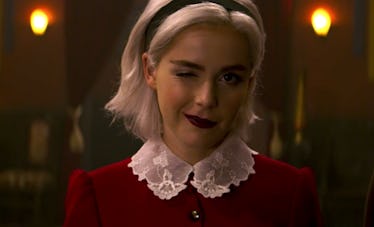 'Chilling Adventures Of Sabrina' Is Debuting A Spooky Christmas Special Next Month
Netflix
Netflix may have just debuted Chilling Adventures of Sabrina less than a month ago, but the streaming service already has another special treat for fans who ate up the first season and are ready for more. The streaming service revealed on Monday morning that a Chilling Adventures of Sabrina Christmas special is going to premiere next month, so get ready for the spookiest holiday special that will hit your TV screen this season.
The new special, which is called Chilling Adventures of Sabrina: A Midwinter's Tale, was announced as part of Netflix's 2018 slate of new holiday-themed releases. Netflix also revealed a little taste of what the chilling, standalone episode would be about, teasing that an unwelcome guest may crawl down the Spellman family's chimney:
The Church of Night, like all covens, celebrates the Winter Solstice - the longest night of the year - when families gather around the Yule Fire to sing pagan carols and tell ghost stories. But the holidays are also a time for guests and visitors - both welcome and unwelcome - you never know what might come down the chimney...
Since A Midwinter's Tale is being billed as a standalone episode, fans will likely not be seeing any major continuations of the Chilling Adventures of Sabrina's main plot. Sadly, that means we will still have to wait until Season 2 to really see how Sabrina's new satanically-gifted powers have changed her personality. But the new episode will give fans another dose of witchcraft as we see how the Church of Night celebrates the Winter Solstice.
Chilling Adventures of Sabrina showrunner Roberto Aguirre-Sacasa may have actually given fans a big hint about who the mysterious guest that the episode's synopsis hints at might be. A day before A Midwinter's Tale was announced, Aguirre-Sacasa posted an Archie Comics cover featuring Jingles the Elf. Could this be the unwelcome visitor that pays the Spellman family a visit?
In the Archie Comics, Jingles shows up in Riverdale every Christmas to keep an eye on all the kids on Santa's nice list. Although he is kind and welcomed by most of the main characters, the elf can also be mischievous and play some magical pranks.
Of course, the Chilling Adventures of Sabrina version of Jingles may be much scarier than the one that Archie Comics readers know. We might have an evil elf on our hands in the new Christmas special, who uses his magic to wreack some holly-jolly havoc on the witches. Then again, Aguirre-Sacasa may have only posted about Jingles to tease that the news would be Christmas-related, so we will have to wait and see what happens.
The first season of Chilling Adventures of Sabrina just debuted its full first season on Oct. 26, themed around Halloween. The new standalone holiday special, Chilling Adventures of Sabrina: A Midwinter's Tale, will be available to stream on Netflix on Dec. 14. The show is also currently filming its second season, which is due out at some point next year.