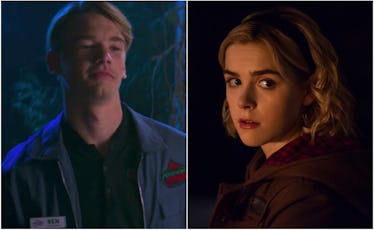 These Theories About Ben Button's Crossover Role In 'Riverdale' & 'Sabrina' Are Chilling
Netflix
This post contains spoilers for Chilling Adventures of Sabrina. The first season of Netflix's Chilling Adventures of Sabrina fleshed itself out separately from its unofficial companion series Riverdale, briefly alluding to the fact that Sabrina's hometown is next to the titular town of the CW series. While Jughead and Betty didn't pop up at Baxter High, the Sabrina cameo of the seemingly deceased Ben Button sent fans into a frenzy. How did Ben end up at Ms. Wardwell's door? These Ben Button Riverdale and Sabrina crossover theories will totally give you goosebumps.
The mysterious background character Ben Button (Moses Theissen) first appeared sporadically throughout Riverdale, but he became a major part of one of Season 3's early storylines this year. In the weeks leading up to the Oct. 26 launch of Chilling Adventures of Sabrina, Ben drank cyanide alongside Dilton Doiley while playing the Griffons and Gargoyles board game. When he woke up from the coma that the cynaide intake caused, Ben threw himself out of the window to seemingly meet his death below.
Soon after his dying moment aired, Ben then showed up in the later half of Chilling Adventures of Sabrina as the possessed Ms. Wardwell's pizza delivery boy. Ms. Wardwell (or Madam Satan, but tomayto, tomahto) made it clear that she liked the look of him, inviting him inside for an ambiguous meeting. The fleeting scene sparked viewers' questions about whether the two dramas were happening within the same timeline and if Ben was even dead in the Riverdale world. Speaking to Teen Vogue, Theissen spilled about fan theories that are worth observing, telling the publication:
I think possibly it could be two different universes, same Ben kind of thing... A recent [theory] was that when Ben died in Sabrina or whatever — got eaten — then he was revived as a demon, and then that's the character he was in Riverdale. Then it means Ben is actually possessed and who knows, maybe he isn't dead there and something even more [sinister] is going on. Another one in the summer that was really big, was that Ben was Charles, Betty's brother.
Did the events of Chilling Adventures of Sabrina play out before Riverdale? Ms. Wardwell assumingly destroying Ben in some way would make even more sense if she revived him as a secret demonic ally of the Dark Lord. Fitting in with Ben's place on Riverdale, the possibility of his demonic state in the third season also explains the sudden focus on him and his unexpected death. Is Demon Ben due for his own resurrection on Riverdale?
Theissen also teased the likelihood of Ben being buried in the Spellmans' garden, which is soaked with the restorative powers of Abel's blood. If he spent some time as a delivery guy, Ben is probably more familiar with Greendale than any of his peers in Riverdale, but wouldn't the Spellmans have realized if Ms. Wardwell was burying a stranger in their backyard? With that in mind, Ben is sounding a bit more demonic.
Roberto Aguirre-Sacasa, the creator of both shows, is remaining tight-lipped about the chance of a crossover, but he previously hinted that we haven't seen the last of Ben Button. In an interview with Entertainment Tonight, he said:
[The cameo] suggests a very deep, deep mythology where time and space bends... [Ben's death] seemed like it was pretty final, but yet there he is in [Chilling Adventures of Sabrina town] Greendale. But in Greendale, everyone pops up — the dead don't stay dead long in Greendale.
Right now, the chances of Ben still living in at least one show's universe seem high. Chilling Adventures of Sabrina wasn't shy about dealing with demons, and it looks like Riverdale might have to handle their own evil spirit if a particular theory about Ben Button rings true.
Season 3 of Riverdale continues on Wednesdays at 8 p.m. ET on the CW. Season 1 of Chilling Adventures of Sabrina is currently streaming on Netflix.