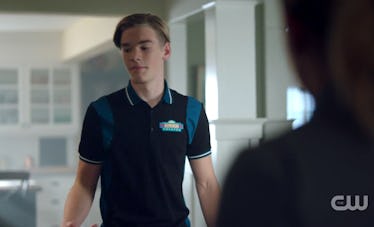 Here's Everything Fans Need To Know About Ben Button On 'Riverdale'
CW
For casual Riverdale viewers, Ben Button seemed to be a completely new character that the show introduced in its third season, but hardcore fans know that we have actually seen Ben pop up at some very suspicious times in Riverdale's first and second seasons. It looks like we will not be seeing Ben show up around town any more, though, after the shocking final moment of this week's latest episode. Of course, we all still have so many unanswered questions about Ben. So, who is Ben Button on Riverdale really? Let's break down everything we know about this mysterious character.
Spoiler alert: This post contains plot details from the first two episodes of Riverdale Season 3. Ben Button is the character that every Riverdale fan is curious about after this week's episode, which shockingly ended with Ben throwing himself out of a window after waking up from a coma. We first saw Ben this season playing a mysterious board game called Griffons and Gargoyles with Dilton Doiley. After Dilton warns Jughead about a character in the game called the Gargoyle King being real, Jughead finds both Ben and Dilton unconscious in the woods with strange symbols carved onto their backs. It turns out, drinking cyanide is part of the Griffons and Gargoyles game. Although Dilton died from the challenge, Ben manages to survive, although he is comatose. Oh, and we also just learned that Ben's last name is Button... I'm still not sure whether the Benjamin Button nod means anything.
Ethel Muggs and Ben's mom reveal a lot more information about Ben to Jughead and Betty. Apparently, Ben began acting strangely over the summer. His mom says that he became very secretive and snuck off all the time. Ethel clarifies that Ben spent all of his time with Dilton and herself in a hidden bunker that Dilton had in the woods, where the three of them played Griffons and Gargoyles all summer long. Ethel also claims that she and Ben were dating, although one of Dilton's boy scouts who watched them play said that only Ben and Ethel's characters in the game dated.
We have actually seen Ben Button a few other times in Riverdale prior to this season. He first popped up briefly in Season 1, where we saw that he worked at the Twilight Drive-In's concession stand. Then he made two very shady appearances in Season 2. First, he was revealed to be Ms. Grundy's new piano student/boy toy, who also happened to be the last person to see her alive before the Black Hood killed her. Then, Betty caught him leaving Chic's room, claiming that he was interviewing the imposter-brother for a job at the Bijou.
So... are we ever going to find out what was really going on with Ben? For a while, he seemed to be something of an omen that a shady situation was going down, so it does seem fitting that he would be at the center of this Griffins and Gargoyles mystery. We will have to wait and see if Ben somehow survived his fall or if he really is gone forever now.
Riverdale airs on Wednesdays at 8 p.m. ET on the CW.